The 22 LR is typically one of the first rounds you fire when learning how to shoot. It's one of the most popular ammunition out there, and it's used for plinking and competition shooting. The best 22 LR ammo is the CCI Standard Velocity for a few reasons.
You want maximum power with low recoil when hunting small game, and you'll get that with the best options listed below. The versatility and budget-friendly cost is also something that attracts people to this ammunition.
We've spent hours researching and putting together this comprehensive guide that really brings it all to the table. By the end, you'll know how to choose the best 22 LR ammo and all the 22 LR ammo types.
12 Researched Sources
6.5k Reviews Considered
15 Hours Researching
20 Products Evaluated
12 Best 22 LR Ammo Options for Your Ruger 10/22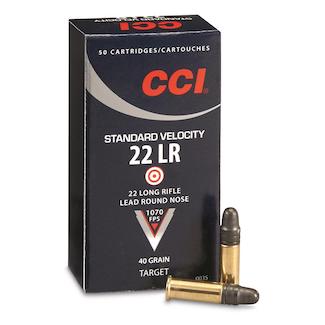 Bullet Style: Lead Round Nose
Bullet Weight: 40 Grains
Muzzle Energy: 102
Muzzle Velocity: 1070 F/S
If you're looking for do-all ammunition that's both accurate and priced affordably, this is the number one choice. CCI is the most well-known maker of 22LR ammo, and they make so many varieties that you're sure to find the right style for whatever it is you're looking to do.
This ammunition is loaded with the same velocity as the CCI Green Tag and Pistol Match, but it's more affordable, making sport shooting more accessible for those on a tighter budget. It uses a clean-burning propellant to help keep the semi-auto actions clean longer during shooting sessions.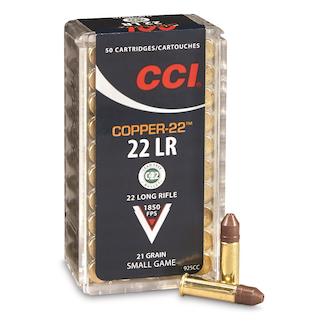 Bullet Style: Hollow Point
Bullet Weight: 21 Grains
Muzzle Energy: 160
Muzzle Velocity: 1850 F/S
These bullets are injection modeled copper alloy making them very light and incredibly fast. With a velocity of 1850 FPS, they travel hard for 100 yards until they start to drop. This factor makes these an excellent choice when hunting small, quick-moving game from long distances.
When looking for the best hyper-velocity 22 LR ammo, you want to look for reliable ammo with the best materials. CCI is well known for producing high-quality, consistent ammunition that doesn't fail.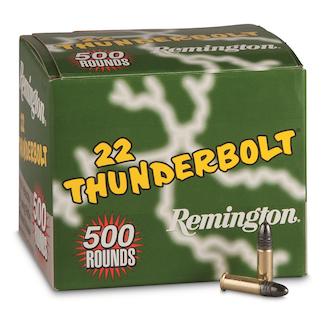 Bullet Style: Lead Round Nose
Bullet Weight: 40 Grains
Muzzle Energy: 140
Muzzle Velocity: 1255 F/S
If you're looking for a reliable cartridge that won't fail or break the bank, these are the rounds you're looking for. Accuracy is not overly exceptional on these, but it's more than adequate for plinking and short distance hunting. Of course, having a high-quality firearm also makes a difference.
There's a reason why these are one of the most popular ammunitions from Remington. The company offers a wide assortment of rimfire ammo for all potential uses. You can use these for just about anything.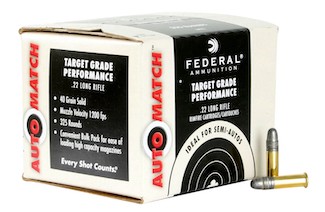 Bullet Style: Solid
Bullet Weight: 40 Grains
Muzzle Energy: 128
Muzzle Velocity: 1200 F/S
Federal is the largest manufacturer of ammunition in the United States. They have a meticulous inspection process that also makes them one of the most accurate 22 LR rounds on the market. While this ammo isn't as readily available as CCI is, it's worth it when you can find it.
The ammo was originally designed for semi-automatic AR-15 style firearms. It provides a reliable feed to help eliminate misfires. There isn't excessive powder or lead residue, and it's packaged in bulk, making it a great choice for the high volume target shooter.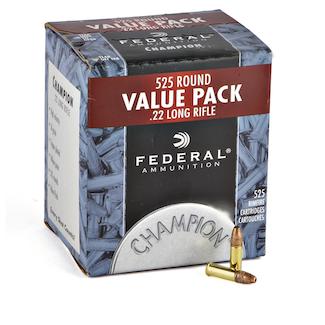 Bullet Style: Lead Round Nose
Bullet Weight: 40 Grains
Muzzle Energy: 137
Muzzle Velocity: 1240 F/S
Federal Ammunition places a lot of emphasis on staying ahead of the technology. They produce exceptional centerfire, rimfire, and shotshell ammo for shooters all over the world. This 40 grain lead round nose bullet is a high-velocity round meant to provide increased accuracy making it one of the best 22 LR rounds for target shooting.
They feature non-corrosive brass cases and boxer primer at a price that is affordable for people of varying budgets. The bullets have a muzzle velocity of 1240 feet per second, and they come in cases ranging from 500 to 5,000 rounds.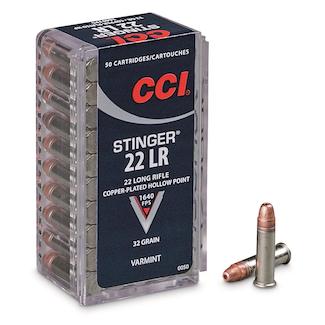 Bullet Style: Copper Plated Hollow Point
Bullet Weight: 32 Grains
Muzzle Energy: 191
Muzzle Velocity: 1640 F/S
CCI delivers explosive accuracy here paired with reliability for hunters and target shooters. This hollow point bullet offers a tear-drop cavity and dimple-tip expansion, which mimics big game bullets. All of these factors combined result in minimal meat and hide damage, but maximum accuracy and power.
These are high-velocity load rounds intended for small game, varmints, and pest control. They use clean-burning propellants to help keep the rifle clean during long shooting sessions. You can choose between 50 to 5,000 rounds.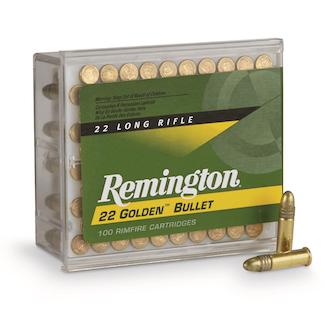 Bullet Style: Hollow Point
Bullet Weight: 36 Grains
Muzzle Energy: 131
Muzzle Velocity: 1280 F/S
Remington offers the most reliable 22 LR ammo, and these are the best for plinking and small game. You experience less FTF and rejection problems with these than some of the other popular options.
One of the best features of these is how clean they work, so you spend less time cleaning your bore without any misfires or jams. While you do lose a bit of accuracy on these plated bullets, you make up for it in reliability. These feed great, and there's nothing better than a giant bucket of bullets.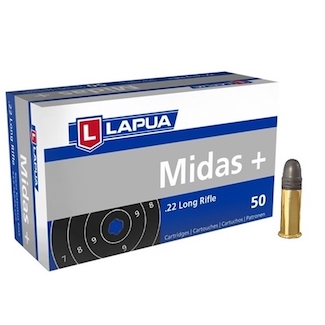 Bullet Style: Lead Round Nose
Bullet Weight: 40 Grains
Muzzle Energy: 102
Muzzle Velocity: 1070 F/S
If budget isn't as much of an issue, you'll want to get these rounds. While you might have to pay .40 cents per round, it's a high-quality, reliable, and incredibly accurate competition round that never disappoints. That said, you certainly pay for that consistency, and you pay dearly.
The Midas+ line is an extension of the original Midas line of ammunition. They improved upon the previous design, and each cartridge is checked individually to make sure it meets their strict requirements.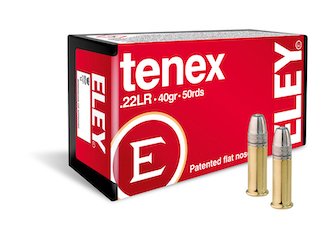 Bullet Style: Lead Flat Nose
Bullet Weight: 40 Grains
Muzzle Energy: 105.6
Muzzle Velocity: 1090 F/S
The flat lead nose on these gives the bullet improved accuracy, and that's why it's a competition ammo. It's a bit pricey compared to some of the other options, but as we've seen so far if you want accuracy – you need to pay for it.
Customers and shooters we talked with couldn't be happier with the accuracy of this 40 grain bullet. It has a muzzle energy of 105.6 and a velocity of 1090 feet per second before it starts to drop.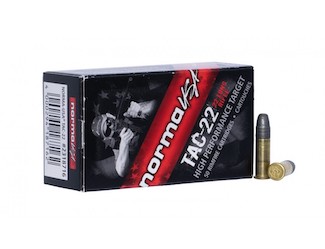 Bullet Style: Lead Round Nose
Bullet Weight: 40 Grain
Muzzle Energy: 110
Muzzle Velocity: 1100 F/S
Here we have the newly manufactured Norma rounds from the world's largest rifle ammo manufacturer. It's a great choice for target shooting, and each round comes with rimfire-primed brass casings and non-corrosive powder.
The best thing about this ammo is that it works in semi-automatic guns like your 10/22, and it also works in ARs. If you have a suppressor, you could also go with the subsonic rounds instead of the lead bullet with a round nose.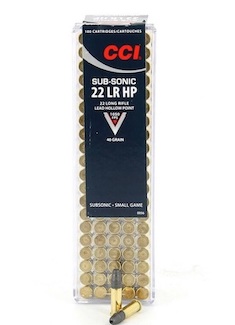 Bullet Style: Lead Hollow Point
Bullet Weight: 40 Grains
Muzzle Energy: 98
Muzzle Velocity: 1050 F/S
If you're looking for a subsonic round that creates less noise but expands for quick kills, you'll want to check this one out. These work exceptionally well on small game because they expand reliably without failure. The subsonics are loaded and consistent with CCI primer and brass, creating less cleanup and a solid 1,050 fps muzzle velocity.
You also don't have to worry about fragmentation on the expansion because these are made by CCI, which is one of the most reliable and trusted rifle ammunition manufacturers out there.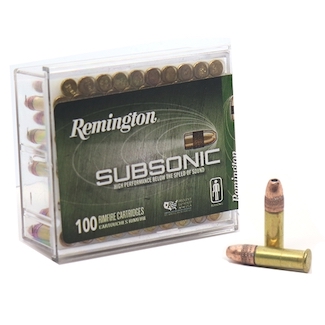 Bullet Style: Copper Plated HP
Bullet Weight: 40 Grains
Muzzle Energy: 93
Muzzle Velocity: 1050 F/S
Remington uses a subsonic hollow point bullet around the same weight as most of the other counterparts. It's designed to create stealth and consistency by staying beneath the sound barrier and offering rimfire like performance.
The Subsonic HP ammunition is manufactured with tight velocity to reduce supersonic cracks, and it features a copper-plated, hollow-point design with less lead buildup and maximum accuracy at less velocity.
Types of 22 LR Ammo
When you're shopping around for the best 22 LR ammo, it's important to understand the different types of ammunition and how they impact your accuracy, reliability, and velocity.
Round Nose
If you're looking for the best 22 LR ammo for penetration, you want to get a lead round nose bullet. These offer more penetration, but less expansion. This makes them a nice middle ground ammunition commonly used in plinking and varmint hunting.
Hollow Point
Hollow point ammunition is considered one of the more accurate options because they have a larger meplat. They're an expanding bullet designed to control penetration and limit the amount of collateral damage created.
Subsonic Rounds
The goal of these rounds is to reduce the noise you create when you fire. If you can behave with more stealth, it makes it much easier, especially when hunting small game. While they make less noise than your standard rounds, they're far from perfect.
The problem is, most people don't realize that a large portion of the noise you hear has nothing to do with the bullet. Instead, it's from the expanding of the gases in the bore. So subsonic rounds will reduce the noise, but they don't get rid of it.
Shotshells
A shotshell or shotgun shell is loaded with a metallic shot made of small sphere projectiles. There's usually a small container inside the shell casing. These have an effective range of up to 110 feet with buckshot and as far as 500 feet with sabot slugs. These are useful in pest control because they have a widespread, but from short distance.
Standard Velocity
These rounds work best in rifles with long barrels, and their standard weight is approximately 40 grains. They have an average muzzle velocity of 1110 F/S, and you'll find that most of the 22 LR rounds reviewed in this guide are standard velocity.
High Velocity
High-velocity rounds have a 20% higher muzzle velocity than their standard counterpart. They use smokeless cartridges, and that's what increases their speed. Their standard weight is often a bit lighter around 36-38 grains and velocity around 1300 F/S
Hypervelocity
Hypervelocity bullets have the lightest weight of around 30-32 grains, and their muzzle velocity ranges between 1400 and 1800 F/S. Their speed makes them capable of penetration, but their lightweight doesn't offer much knocking power.
Important Purchasing Considerations
Let's say you wanted to purchase the best 22 LR ammo for hunting, but you weren't sure which one was the right option. It would be hard to pick from the seemingly endless variety of rounds without understanding the following buying factors.
Availability
22LR ammo is one of the most popular on the market, so while it's easy to find some, it's not always easy to find the ones you want. You want to make sure that the cartridges you plan to use are consistently available.
The last thing you want to deal with is not having the ammunition you need when you need it most. Buying in bulk is beneficial and always recommended, and if budget is an issue, try and find a manufacturer who will offer a deal for a large purchase.
Reliability
When you have ammunition that constantly misfires and jams, it's a big problem. That's the most significant issue that many gun owners run into when purchasing cheap ammo from inconsistent suppliers. We always recommend going with the most popular brands because they have a strong reputation.
When you have a highly reliable ammunition, it makes it easy to load, and it fires without any issue. This factor is especially important for tournament and target shooting where you may fire a lot of rounds in a short amount of time.
Accuracy
Accuracy is obviously one of the most important buying factors because you need accurate ammo if you want to have success, whether you're on the range or in the woods. The bullet type will determine a lot when it comes to accuracy, so be sure to understand each type.
If you find that you're off your game using certain ammunition, you might want to switch over to something different and try it out.
Consistency
Here is a factor that a lot of people don't think about. How many times have you purchased something for years, and after a while, the quality starts to go down? We've experienced this with a ton of ammunition manufacturers, even some of the big ones. It's important that you're getting the same quality ammo each time you purchase.
Cost
The cost of your rounds is an important factor because we want everything to be sustainable over the long term. There are many factors that impact the price of your ammo, including the type, availability, and quantity. During times of turmoil or where there are issues with the country, the price will rise because consumer panic has increased. These times are also when you want to purchase in bulk because you never know what will happen.
Bullet Weight and Velocity
These two go hand in hand, and you want to understand how they impact each other. So, the weight of your bullet will determine how far it goes before it loses its velocity and starts to drop. The velocity of your bullet will tell you exactly how far the bullet goes before it drops.
These two work perfectly together because if you have a light bullet, you won't get as much knockdown power, but it will travel further. If you have a 40+ grain bullet, you won't travel as far, but you'll have a more powerful impact at closer range.
Number of Rounds
How much ammo do you need or want? That will determine how many rounds you should have. Of course, you want to keep all these other factors in mind and maybe test out new ammo before you go and purchase 10,000 rounds.
We would suggest giving some of the ammunition suggested above a try at smaller quantities, many of the options are sold at as low as 50 rounds. See how they feel and how reliable they are and then make a larger purchase if you like them.
Keep Your Intended Purpose In Mind
While we want to think about the type of ammo, how many rounds we get, and how much we'll pay – it's also critical to think about your intention with the ammunition. 22 LR rounds are highly versatile and used for a multitude of different purposes. Let's take a look at some of them:
Target Practice/Plinking
Plinking is another word for target practice, and this means you're going to fly through a lot of ammo. Many shooters think you should purchase the cheapest ammo for your target practice because you're going through them so quick, but that's not always the case.
It's just suggested that you buy in bulk. The best bullet for target practice is a round head, soft core, full metal jacket. This bullet has a soft lead material on the inside encased in a harder shell. These are the simplest to manufacture and, as a result, are usually the most affordable.
They don't penetrate or expand as much, and they're even reloadable, so you can potentially gather up the ones that hit the mark.
Small Game Hunting
Another wildly popular use for 22 ammo is small game hunting and varmint control. You need to be able to stop these animals as quickly as possible and do it as humanely as you can. Because of this, hollow point rounds are the best because they offer the best penetration, which will kill the animal faster instead of having them run off to die.
We've also seen situations where some people recommend using shotshells for varmint control because of the large spread that the shot covers. We would only recommend this for pest control because you won't likely be able to consume any small game you kill with this strategy.
Personal Defense
When you think of defending yourself, a 22 LR is not the first thing that comes to mind. The round isn't always powerful enough, but a 22 pistol is more of what you're looking for. That said, the 22 LR has low recoil; it's easy to shoot, and if you have the right ammunition, you should be able to use this gun for personal defense.
Plus, these rounds aren't likely to leave the target and cause collateral damage, which makes them a good choice for the home.
FAQs
Here are some of the most frequently asked questions revolving around 22LR ammunition and the answers you need to have.
Q: Is there a shortage of 22 LR ammo?
A: While we don't believe there is a shortage, we definitely see gun shops and retailers rationing the amount of ammunition you can buy at a time to try and evenly distribute their supply over a period of months in the event of a real shortage.
Q: What is 22 LR ammo good for?
A: It's a highly versatile ammunition that's good for hunting small game, plinking, and competition shooting.
Q: Will 22L R stop a burglar?
A: We believe that in most situations, gun owners using their weapons for self-defense will never even have to fire them to scare an intruder. That said, a 22 long rifle round is lethal, but it's not a hard hitter like a Ruger GP100 handgun.
Q: Is a 22 LR more powerful than a 9MM?
A: No, the 9mm is much more powerful and larger than a 22, but it's much less pleasant to shoot because of the recoil, and you lose a lot of accuracy as well. For that reason, many sport shooters turn to the 22 LR.
Q: How accurate is the 22 LR?
A: It's accurate up to around 150 yards, but it's hard to anticipate the ballistics past 100 yards. Expect there to be a large drop as well.
Final Thoughts
While there are more powerful and more accurate rounds than even the best 22 LR ammo, we're still impressed by how reliable and useful these are. They're one of the most versatile ammunition out there, and their affordability makes them a great choice for sport shooting and target practice. It never hurts to have a box of these laying around whether you're chasing after snakes or shooting in the woods.