Disclaimer: This page contains affiliate links, meaning we receive commissions for any purchases made through the links on this page.
The best scope for Ruger 10/22 rifles is not always easy to find. There are many different options out there, but you want one that is lightweight, durable, and easy to magnify. It's important that you understand how magnification impacts both the size of the scope and your ability to zero in on your target.
We've spent hours researching these scopes, and we have cross-referenced nearly two dozen scopes to come to this conclusion. There are nine high-quality scopes out there, and these are the best options to mount on your Ruger 10/22.
14 Researched Sources
2.6K Reviews Considered
10 Hours Researching
22 Products Evaluated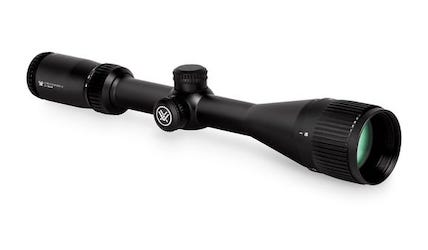 If you're looking for the epitome of craftsmanship and quality, you'll want to check out this nitrogen purged Crossfire II. This scope is o-ring sealed with aircraft-grade aluminum, and it delivers a completely waterproof, fog proof, and shockproof image.
The scope comes with a dead-hold BDC reticle, so you never have to estimate your holdover. This is an excellent choice if you're a hunter and you're always chasing something that's on the run or at variable distances.
This scope is incredibly accurate to boot. You can maintain tight groupings as far as 300 yards, and the crystal clear lens and long-eye relief are responsible for that intense long-distance accuracy.
So, who should use this scope? If you're a beginner, target shooter, hunter, or anyone for that matter – you should have this scope. You deserve this scope! Okay, no, seriously, it's a high-quality scope that's durable, accurate, and crafted using the best materials. It also comes with a lifetime warranty.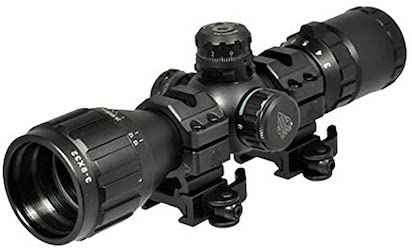 If you're sitting here thinking about your budget and you're looking for an amazing scope that keeps you much closer to $100 instead of $200, then check this one out. The UTG BugBuster has an incredibly clear glass AO that eliminates parallax, and the resettable turrets make it easy to zero in on your target.
For a scope of this price range, we don't expect features like this, so we had to see how it works for ourselves. In a range shooting test, the view is as crisp as could be, there's no blurring even on the edges, and the dual red and green illuminated view helps when you're dealing with a wide variety of objects in your way.
The scope itself is o-ring sealed and nitrogen purged to make it completely water, fog, and shockproof. This means you'll get the maximum amount of reliability, and you'll be able to deliver the performance you need when you need it most.
Who should use this scope? If you don't have a huge budget to dedicate to your rifle, you owe it to yourself to give this one a look. We used to think you needed to spend $250+ to get a high-quality scope, but this one proves us wrong.
It comes loaded with flip-open caps, a sunshade, batteries, and some of the best scope rings for a Ruger 10/22 on the market. Plus, you get a lifetime warranty, so what else could you want?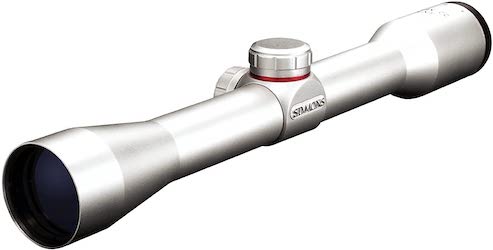 Next up, we have a solid construction takedown scope for the Ruger 10/22. This scope is affordable and built to operate at 100% performance no matter what the conditions are outside.
It's engineered using hydroshield lens coating that helps you get a more lucid image regardless of what comes in your way. No more worrying about the rain, snow, or fog because it doesn't matter what season it is anymore.
The scope is shock-resistant, fog-proof, and water-resistant up to 50 yards, but it's not all great news. You don't get the same clarity at long-distances as you do with some of the other options in this review. The accuracy starts to drop when you get closer to 100 yards. Plus, the turrets come with a tactical click.
The good news is that the magnification is on point and super precise, plus you get this scope for an incredibly low cost, so you can't expect it to be entirely perfect. The Simmons Truplex is about as close as you can get to perfect in this price range.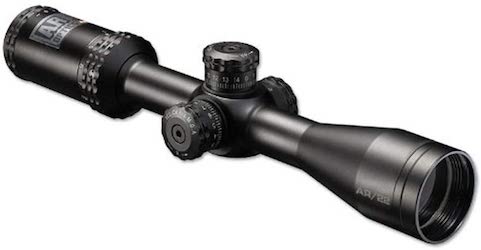 Having the best 10/22 scope isn't like a needle in a haystack. It should be a calculated and well thought out decision. This scope offers great value with its BDC reticle zeroing in at 50 yards and providing precise aiming up to 125 yards.
It comes with a fully coated lens, meaning you can deliver results on both bright and sunny days as well as cloudy overcast days with little light transmission. It's designed to allow you to focus quickly so you can zero in on your target when it matters most. Zeroing in faster allows for faster immediate precision so you don't have to sit around focusing when you should be aiming.
The scope features an o-ring sealed and nitrogen purged body to help prevent moisture and debris from penetrating the scope. You can magnify to as much as 7x for viewing targets at extreme distances. The 32mm objective lens also gathers enough light to provide you with the picture you need without making the scope too large and clunky.
Bushnell Optics uses a wide FOV on this one that allows you to zero in on multiple targets. Overall, you've got yourself a high-quality scope designed with the right materials and hunters in mind. It's a bit bulkier than some of the other options, but it shouldn't be too overbearing. It's also recommended that you grease the knobs when you first get it because they're stiff.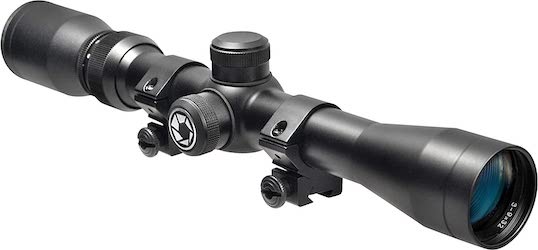 This scope is considered one of the best options for less than $100. It's built specifically for .22 rimfire rifles, and many people enjoy it because it's durable, sturdy, and available for a lower price range.
In addition to its low price, you're also getting a scope that performs well in rough conditions. It comes with multi-coated optics that offer exceptional lucidness, and it transmits a larger portion of the light to your eyes, which helps increase your vision and performance when you need it most.
What makes this a great long-distance scope is the adjustable turrets. You can fine-tune the elevation and windage using the ¼ MOA adjustable settings. It also comes with a 30/30 reticle that is the same as the duplex reticle but with 4x magnification.
The crosshairs are 30 inches at a distance of 100 yards, and this type of clarity and precision really helps you maintain your position and shoot with tight groupings even beyond 100 yards.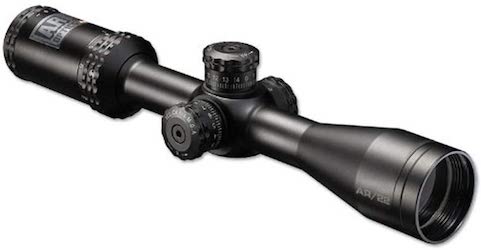 When you catch yourself in close range, you want to look for this scope. It offers 3.7 inches of eye relief with a fully coated lens and clear views to totally destroy at close to mid-range. The side focus parallax helps you keep your wits about you while you're trying to focus on a target 50 yards out.
The accuracy with this scope is incredible. Even shooting at distances of about 500 yards, the drop zone BDC reticle and parallax adjustment help you zero in and really get all your shots tighter than ever before.
The scope itself is built to be extremely durable with aluminum alloy, anodized exterior, and nitrogen purged for elemental protection. We're really starting to see that they did not skimp on this scope.
Our only issue here is the weight. It weighs 1.23 pounds, which is much more than we would have hoped for a scope that has so much going for it already. That said, it uses an objective lens and super solid material, so maybe the weight says something about the craftsmanship of the scope.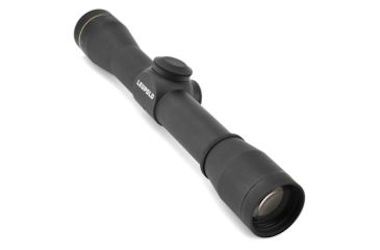 On your search for a lightweight scope that assists you rather than gets in your way, you found this option. Well, good for you because it comes with a duplex reticle making your shot easier than ever before. The crosshairs are extremely thin, which reduces target cover and allows you to be more in control of your rifle than ever before.
Keep in mind; it's a small scope, so you're not getting the same viewing distance and angle as you would with some of the other options. The linear view is around 25.5 feet, and while it's not as large as the others, it's still more than enough to see whatever you want.
We recommend this scope for sport shooting. If you're going to be firing off a lot of rounds, you'll want something lightweight that doesn't obstruct you in any way. As with most high-quality scopes, this one has an 80 MOA feature that makes it incredibly easy to install the scope.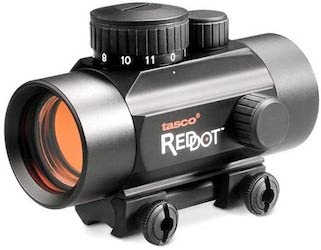 This scope has a broad view and illuminated red dot sight with a total of 11-position rheostat, which is the ideal number for accuracy. If you're looking for something with limitless eye relief and one of the most accurate fields of view on the market, then this is the red-dot sight for you.
It's also lightweight, and it's only 3.75 inches in length. If you're using a shorter firearm, you'll need a scope like this because it can accommodate a smaller rifle. The Tasco .22 comes with a black waterproof matte finish, and it's even equipped with dovetail weaver bases to add a pristine finish to the scope.
Finally, it comes with a CR2032 battery offering lucid powered vision, ensuring you never feel like you can't see something or that your vision is impaired.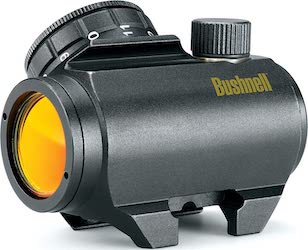 We're aware that a red-dot sight isn't exactly a scope, but it's in the same family, right? The TRS-25 is an amazing red-dot because it's compact, durable, and it's affordable. The reason most people give it a shot is that it's cheaper than an expensive scope, and it's a great entry-level piece of gear to start introducing accessories.
One feature that we enjoy about this red-dot is that you can use it with both eyes open for rapid target acquisition and increased accuracy.
Unlimited eye relief scopes are a great option for increasing your awareness and making sure that you don't miss anything happening around you while you're zeroing in.
Design-wise, it's built well and designed to last forever. Best of all, it only weighs 3.7 ounces. That's another huge advantage of a red-dot sight over a full scope. Their lightweight and compact design doesn't become overbearing when you're carrying your rifle around or trying to pinpoint your target.
You also get multi-coated optics so you can see your target no matter what the situation is outside. It can be a bright sunny morning or a dark, dingy evening. The o-ring and nitrogen purged tube offers protection from the elements and helps ensure you get the best performance out of your scope.
How to Choose the Best Scope for Ruger 10/22
The Ruger 10/22 is a staple for many gun owners, and it's admired and adored by those who would love to own one. If you're new to the game, it's relatively beginner-friendly because it doesn't have a lot of recoil but picking a scope for it is not easy.
You don't want to end up spending money on something you'll never use because many scopes can be as much as $200 or more. Not to mention that choosing the wrong scope could mean missing your shot, and if you're game hunting with your Ruger, that's the last thing you want to happen.
There are a few factors to keep in mind when choosing the best Ruger 10/22 scope so let's take a look at them:
Lens and Magnification
It's all about moderation and finding the perfect medium between two extremes. On one side, if you have a high magnification range of 10x or more, you'll end up with dusky images on a smaller scope. If you have a large scope, you'll be able to get those high visibility images, but you'll end up with a heavy scope that may impact your ability to zero in on your target.
Magnification between 3x and 9x is usually suitable for a Ruger 10/22. It's all about the usability of the magnification as well. You need to be able to adjust the dial easily.
Ideally, we're looking for a scope of around 32 to 40mm because it won't make it too heavy, and you'll have a large enough objective lens to make everything look brighter and clearer. Anything bigger than that will simply make the scope bulky, and that's unnecessary.
Weight
Speaking of bulky, choosing a scope that is too large will make your rifle feel heavier than necessary, so you don't always want to go for the biggest scope on the shelf. The standard Ruger 10/22 weighs about five pounds, so it's a pretty lightweight rifle, to begin with.
The heavy scope will knock your rifle out of balance, which will make it harder to aim, and the high volume of the scope will make it more difficult to aim at targets at long-range when it takes a little while to zero in.
Construction
It's pretty clear that most Ruger 10/22 scopes are constructed in a similar fashion. All of them are o-ring sealed with nitrogen-purged tubes to offer the maximum amount of protection in the elements. If you're a hunter, you never know what you're walking into, so you need to make sure that your scope is never compromised because of a heavy downpour or dense fog.
Most of the scopes are made using magnesium or aluminum, and they should always be waterproof, shockproof, and fog proof. The highest-quality scopes will also have fall tests that offer trial results to determine if dropping or banging the scope can impact the quality of the image and ease of use.
Optics
You hear the words fully coated, multi-coated, fully multi-coated, magenta, eyepiece, etc. This is referring to the lens itself on the scope and the materials used to provide you with the image you see when you look through.
The optics will not only determine your field of view but it will also play a role in the quality of that view. For example, if you're out after small game, getting an accurate sight picture is important. If you're in low light, the multi-coated lens will help you see everything ahead of you with great features.
If the lens wasn't coated, it would only work effectively in perfect conditions. When the lenses are coated, it makes it possible for you to see during a dense fog, rain, or even bright sunshine. Having a fully coated lens means you'll get the brightest and highest visibility image no matter what you're dealing with outside.
Reticle
Not all scopes come with a mil-dot reticle, but the best Ruger 10/22 scopes do. This feature will tell you about elevation and windage readings. While it doesn't have a lot to do with the scope itself, this factor helps you shoot better and more accurately. BDC reticles even allow for bullet drop compensation so you can aim from a precise position and increase the chances of hitting your target.
Whether you're out in the woods or on the range, it's important to anticipate everything, and a reticle helps take some of the thinking out of your hands.
Adjustability
Whether you're trying to take it apart or simply adjust the magnification, it should be easy to do and simple to understand. Most of the scopes recommended in this guide are great for beginners, so that makes them easy to adjust, but a few are more complicated than others.
Complexity
If you're a beginner, you'll want something that is simple to jump right into because you don't likely need a million features. Instead, you're simply trying to enhance your target distance, increase your accuracy at long distances, and improve your game.
While things like a reticle help improve your shot, you might not need all these fancy features. Keep in mind that they drive up the cost and are often associated with unnecessary weight on the scope as well.
Brand
We're big believers in staying true to the brands we know and respect, and that's even more true when talking about firearms. There's a lot of companies out there that want to get into this market, but it's always best to stick to what you know. If you're playing around in unfamiliar territory, you're more likely to get burned.
What Magnification is Required?
As we mentioned a few times now, you want to find the perfect medium. Ideally, you want to have the minimum magnification possible to provide you with a clear enough picture to see your target as you want. When you can find this, that's when you've found the right magnification.
It also matters what you plan on doing with the scope. If you're a hunter, you need different magnification than someone who is simply doing target shooting. So, for example, if you're hunting at over 500 yards, you'll want magnification of 10x or higher because you'll need it to see anything at that distance.
If you're hunting at less than 500 yards, you could get away with a 3-9x. If you're doing target shooting, you'll want greater magnification even if you're at 100 yards because you'll need that for pinpoint accuracy where you have a smaller target than if you're hunting.
What you're hunting is also important. When you have a larger target, you might be able to rely on a lower magnification because you have a larger area to hit versus a smaller target.
Finally, if we're talking about sport shooting, you want to be able to zoom as much as possible while still maintaining a clear image. When your target isn't moving, that's much easier. As a result, you can use magnification as high as 23x when shooting because you'll be able to maintain clarity much easier on a still target.
Mounting a Scope on a Ruger 10/22
You need a scope that mounts to the base of your rifle. From there you have to mount the base to the rifle using scope rings. Eventually, the rings will clamp to the base and hold everything in place. Most of the newer rifles come with a scope base in the box. This comes directly from the factory and it looks like a small rail with four screws to hold everything in place.
Overall, it's not a difficult process, but if you've never done it before, there are many small issues you can run into as you go along. Some could be getting the right rings, leveling everything off with the crosshairs, and ensuring you have the right amount of eye relief.
If you bought the rifle from a local shop, chances are, they could install the scope for you. If you're shopping online (which I guess you are) you might have to install it yourself. Cost is also a factor. If you can find someone to install it for you for free, it might be worth it. Even if they want to charge you for it, if it's reasonable – go for it. It will make your life a lot easier.
Otherwise, a quick online search will reveal many different videos on how to mount a scope; watch several of these before attempting the task (or even before buying the scope rings).
If you decide to take care of it on your own you'll want to go to a local gun shop or sporting goods store and tell them that you need rings to mount it. Show them the scope or make sure you have the model number and they'll also need to know you're mounting it to a Ruger 10/22.
It's important to show them the parts in your possession, so they can find the right rings to mate the parts correctly (things such as the type of rings to grab onto the factory base, and the height of the rings to make sure the front of the scope doesn't hit the barrel or rear sight).
FAQs
Q: Should I put a scope on my Ruger 10/22?
A: It's not so much of whether or not the rifle requires a scope, it's whether or not you require one. It depends on your own vision, what you're doing with the gun, and how accurate you'd like to be. Adding a scope obviously increases accuracy, but it's not always necessary. If you're shooting at less than 50 yards, a scope won't help you improve your accuracy; it will only make things more complicated.
Q: What scope should you use for 1000 yards?
A: Anything with a magnification of more than 10x will work at 1000 yards or more. 10x is generally rated for 250 to 1000 yards, so you would want to go a little more than that if possible. In some cases, 10x is just enough, which is the ideal choice.
Q: What is the maximum effective range of a .22 LR without a scope?
A: If you decide not to use a scope, you're effective to around 150 yards, but it's usually even less than that. It's important to understand that a scope doesn't increase your range when you're using the same short-range ammunition. As you increase your visibility at long distances, you need to change the ammunition you use to compensate for that. .22 ammo has a large drop, which will always prevent you from passing close to 150 yards.
Q: What distance should I zero my 10/22?
A: Most people will zero at around 50 yards, but we recommend doing it at the max range you intend to shoot. That will help you properly compensate for the large drop.
Q: Where do I buy scope rings to mount on my Ruger 10/22?
A: You can buy rings from all the same places you buy a scope. There are a few different styles like the Weaver, Picatinny, and Leupold style, but it's crucial that you install the scope properly; otherwise, you won't get the boost in accuracy that you're expecting which can end up wasting your time or even hurting someone.
Final Thoughts
Choosing the best scope for Ruger 10/22s is not an easy task. This rifle works well with a scope, especially the takedown, but you want to make the right choice to compliment the gun instead of working against it.
If you pick a scope that's too bulky or that doesn't magnify properly at the right distance, you might as well take it off and continue as you were.
Be sure to keep in mind all the tips we outlined in this guide. It's important that you understand the features of the best 10/22 scopes, so you know what to look for when you're ready to buy. We recommend checking out all the options outlined above for more information.