A tremendous standout benefit of the Ruger 10/22 is the fact that you can customize it at a minimal cost. This factor makes the rifle a great choice for those looking to play around with their gun a little.
We always recommend spending a large portion of your gun budget on the barrel because having the best 10/22 barrel will have a significant impact on your precision. Barrels, triggers, and scopes are the most commonly upgraded components and it's important to know what features to look for when upgrading.
We've tirelessly spent hours researching products all over the internet. We've exhausted all our resources and put them into this complete guide for 2020. Be sure to check out the installment guide at the end to compliment your purchasing decision.
12 Researched Sources
2.6k Reviews Considered
18 Hours Researched
23 Products Evaluated
Best Ruger 10/22 Barrels Reviewed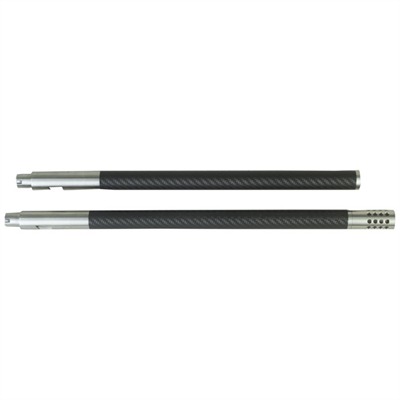 Volquartsen is always at the cutting edge of the newest technology and they're always providing a plethora of custom upgrades to the Ruger 22 rimfires and pistols. If you're looking for a premium barrel, this is about as good as you can get.
It comes in several different lengths, but regardless of your choice, you'll experience increased accuracy and velocity after making the upgrade. You can use this barrel on both the Ruger 10/22 and the bolt-action 77/22.
While it's a challenge to find upgrades for the discontinued 10/22, Volquartsen is one of the only manufacturers still producing upgraded parts.
The barrel sleeves come in both aluminum and carbon fiber with steel on one end promoting tension and rigidity. You can mount your scope directly on the barrel due to the addition of a cantilever mount instead of having to mount it on the receiver like some other barrels.
After installing this barrel, expect to receive a moderate increase in accuracy as far as 100 yards. If you're looking for an increase for your hunting of small or big game, you'll definitely be able to notice a difference. At long distances, there isn't a tremendous difference.
The Volquartsen LR is one of the most durable and lightweight barrels on the market. Installation is simple, everything aligns perfectly, and you'll experience a noticeable increase in accuracy when precision is needed the most.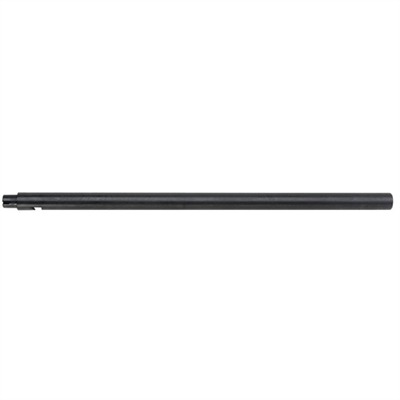 If you're in need of a Bentz chamber inside a carbon or stainless steel barrel, you'll want to check this one out. It's more of a traditional design and you can choose between a .920" thick heavy barrel, or a 10/22 fluted barrel that should make it feel a bit lighter and it will cool the barrel down.
The fluted option weighs 2.72lbs and the non-fluted weighs 3.25lbs. So, as you can see it's a bit heavier than we'd like and that's the primary complaint we have about this barrel. While it's a beautiful, durable, and super tight barrel; the weight makes it more challenging to handle and it takes a while to break in.
Another downside we have is that they don't have a threaded version available for purchase so you'll have to fit the barrel yourself.
Testing shows us how durable the barrel is. The coating makes it almost impossible to damage or scratch and installation is super easy and simple, even for the most inexperienced gun owner.
In terms of accuracy and consistency, this barrel is spot-on as well. Shooting groups are tight and consistent even after shooting over 100 rounds at variable distances and locations.
The Green Mountain Replacement Barrel works great in a variety of situations because it can handle a lot of rounds and it lasts a long time because of its anti-corrosion and rust-resistant coating. Purchasing this barrel will likely result in you not having to purchase another one for as long as you live to shoot.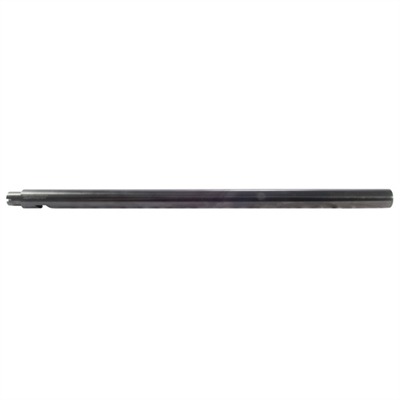 This Bentz chamber ER Shaw barrel is polished blue carbon steel that guarantees maximum accuracy and reliability. It's a heavy contour design with fluting and a threaded muzzle for silences, brakes, and flash suppressors so you don't have to worry about fitting everything yourself.
The bad news is the weight of the barrel. The non-fluted option is 3.14lbs while the fluted barrel is 2.85lbs. They're around the same weight as the Green Mountain Replacement Barrel and they're more affordable so this certainly isn't a dealbreaker for us.
Another significant downside is that you can't use it with cheap ammo like CCI Stinger or any other bottom shelf ammunition.
Shooting groups here are as tight as you would expect even after a large quantity of rounds so most shooters will experience a moderate increase in accuracy. This factor tells us that the weight isn't that much of a bad influence on the barrel, and mobility isn't hindered much either.
So, who should buy the ER Shaw barrel? If you're looking for a budget-friendly barrel that you can use for a wide assortment of activities, you'll want to give it a more in-depth look. You can use it for both hunting and target shooting and the tight shooting groups is what got our attention.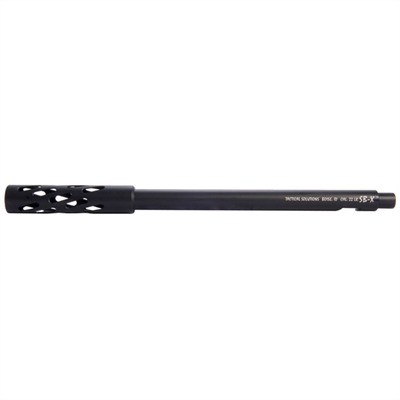 If lightweight is what you want then lightweight is what you'll get. This suppressor weighs in at only 1.1lbs so it barely even feels like you have a barrel on the rifle. This one is the best option if you're looking to improve accuracy, reduce recoil, and eliminate jump. The lightweight nature of the barrel may even help increase your mobility and control over your gun.
The bad news as many gun owners know, adding a suppressor often increases the length of your firearm. This issue can turn the rifle from a comfortable and mobile weapon to something that is clunky and unwieldy. The Tactical Solutions SB-X barrel will increase the barrel length from approximately 12.25" to 16.50" which isn't anything dramatic, but it's worth mentioning.
This barrel is available on both the traditional Ruger 10/22 and the takedown. It's a popular offering and during most testing, gun owners are impressed. Installation is quick, it has a dramatic impact on recoil, and you can use it for a variety of applications.
If you're searching for a solution to noise and recoil, this is the barrel you'll want to have. It puts the control back in your hands but that does come with a price tag.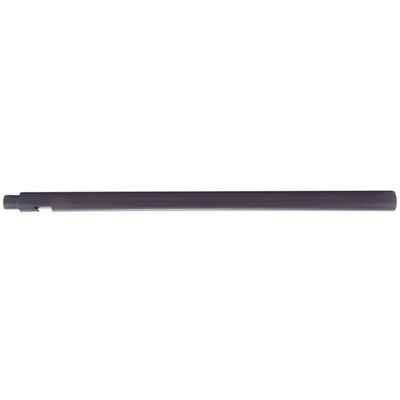 Next we have an aluminum alloy steel lined target barrel offering high contour without jacking up the weight too much. The manufacturer also claims that their aluminum billet is more durable than most barrels and it dissipates heat at a faster rate than steel. We don't know how true this is and our research hasn't yielded any information to back up that claim.
That said, the durability and life of this barrel is incredible. It can handle a lot of rounds and that's what makes it such a great 10/22 choice for target practice and sport shooting.
Beyers also makes 17 HMR barrels making caliber conversion that much easier. If a quality, versatile, and lightweight barrel is what you seek then this is a solid option at a price that won't startle you.
Best 10/22 Barrels for Accuracy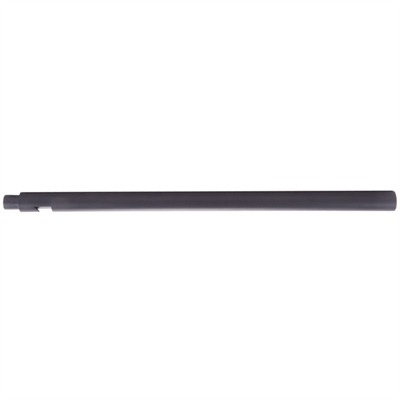 This bull threaded, 16.25" barrel is an excellent replacement to the stock barrel. It comes with chrome-moly steel and a matte black finish that is durable, strong, and long-lasting. This barrel has undergone more tests than any other option available for purchase. Best of all, it's passed those tests.
The barrel is borderline indestructible and it increases your precision to boot. It uses the newest 5R rifling in the bore so it complies with the latest and greatest standards. It's also threaded so you can add a suppressor if you like.
The bad news is, it requires a bit of adjusting to get it to fit into a standard Ruger 10/22. You'll have to apply ample relief to the barrel channel if you expect to get it in. Since it's a bull barrel, you can even fire magnum ammo and it's length and weight aren't overbearing.
The F.J. Feddersen Barrel is a great all-purpose barrel that you can use to increase your accuracy and precision while remaining super sharp behind the eyes. This barrel will make your rifle stand out from the crowd so if you're looking to impress your friends, this is a great choice.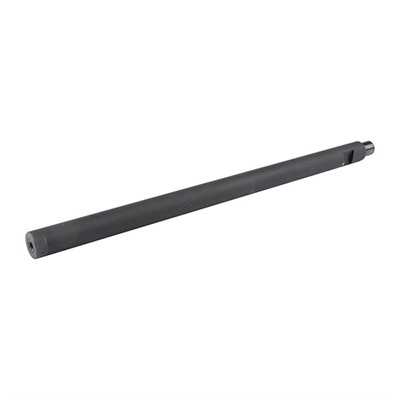 The Adaptive Tactical Tac-Hammer pairs perfect with the latest Takedown model. It's made with aluminum that makes it lightweight and the best at dissipating heat. It features a hybrid construction that adds much needed durability compared to a traditional aluminum barrel.
The cheaper aluminum barrels use a steel liner while this one has a steel core. This factor provides added rigidity resulting in improved precision and tighter shooting. The primary downside here is that you can only use this with the Takedown stock. That's only a con if you're using a standard Ruger 10/22.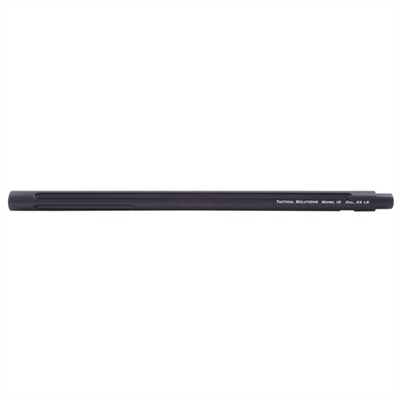 If you're looking for superior mid-range accuracy and you're not afraid to sacrifice a little durability then here is your barrel. The Tactical Solutions X-Ring is a more expensive set of barrels for those who seek accuracy far and above what you can get anywhere else.
This drop-in barrel is a breeze to install and it's button rifling gives it a 1:16" twist offering the best accuracy at mid-range. It comes with a chrome liner and aluminum shell that minimize the amount of weight you feel but they're far from the best choice in terms of durability.
As mentioned, these are a bit pricier than what you'd get from many other Tactical Solutions 10/22 barrels, but they're still more affordable than the premium options listed in this review.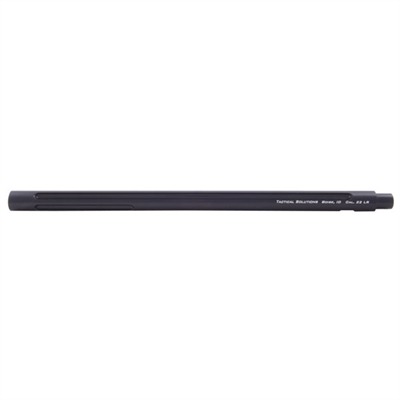 We have a 1:14" twist, 18" barrel, and a medium contour which means we finally found a barrel upgrade that helps you increase your accuracy at long distances. But, that's not what brings most people to purchase this barrel, it's the aesthetics. It mimics the appearance of a tactical rifle because of the black finish.
The manufacturer even recommends swapping out some additional parts in favor of AR-15 parts to give it the full appearance of a tactical M-4 or something similar.
The barrel is a bit heavy at 2.38 lbs, but the chrome-moly steel adds durability and affordability. It's a highly accurate barrel at long distances that not only adds practical components to your shooting but it helps with the "less practical" ones as well.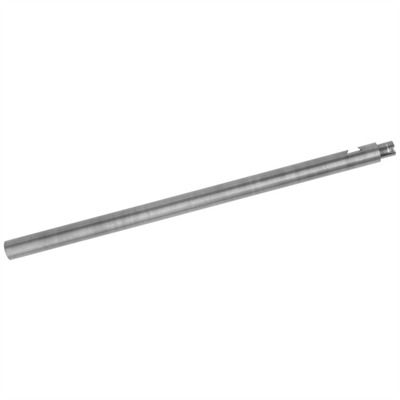 This bull barrel weighs around 3.09 lbs and it's the most popular aftermarket barrel from Shilen. It comes in stainless steel and blued with a 20" barrel. The 10/22 is a straight cylinder with .92" diameter. It features Bentz match chambers and it's designed for low to medium velocity ammunition.
The accuracy comes when you pair it with the right medium velocity ammunition. Using high velocity will have a harsh impact on your accuracy because the barrel can't stabilize it.
Why Choose a Ruger 10/22?
It's no secret that the Ruger 10/22 is the best .22 ever made. Production started in 1964 and it hasn't let up ever since. Years ago, this was a "mans rifle." They didn't last that long, they were made with cheap materials, and they were a chore to handle. The goal was to create a semi-automatic rimfire that would mimic the quality and appearance of early hunting rifles like the Winchester and Remington.
The end result is the 10/22 which is still considered one of the most successful rimfires ever made. These rifles have an excellent reliability rating, they're long-lasting, viable for assorted purposes, and they have pinpoint accuracy.
Guide to Choosing The Best Barrel for Ruger 10/22
Now that you've seen the 10 best barrels for the Ruger 10/22, it's time to learn how we made that determination. What factors did we consider in this review and how did we choose those ten options as "the best"? By the end of this buyer's guide, you'll understand!
Twist Rate
Inside the barrel is a set of grooves referred to as "rifling." The amount of rifling inside the bore will determine how many times a bullet needs to rotate in the barrel. For example, if the barrel has a 1:8" twist rate, that means that the bullet will make a full rotation every eight inches inside the barrel.
It's not always black and white how the twist rate will impact accuracy, but generally a higher number means a slower twist which is typically used for shorter bullets.
Barrel Thickness
Each time you pull that trigger, you're sending a bullet down which can heat up the barrel quickly. When you're dealing with a semi-automatic firing 20 or 30 rounds at a time, your barrel can heat up quickly.
One way to combat this heat is by understanding how the thickness of the barrel impacts the heat dissipation. The thicker the barrel, the more ability you have to rapid fire. If you have a thin barrel, it will heat up quickly which will have a negative impact on your performance over time. It can also have an immediate result due to the vibrations in the barrel and that can even impact your accuracy.
When you're dealing with a thicker barrel, you'll have less vibration meaning you can shoot extra rounds downrange over a period of time before you need to take a break and cool off.
The obvious downside of having a thicker barrel is the added weight it could cause. The 10/22 is light to begin with but adding a bull barrel will enhance your performance while making the rifle a bit more difficult to handle. If you're carrying the gun for long distances or you're dealing with small game, you might not have to worry about having a thick barrel.
Threading
If you're looking to make installation as simple as possible, you want to get a barrel that's already threaded on the end. This factor allows you to install a suppressor without needing to customize anything further.
Keep in mind that a custom threaded barrel will cost more than a stock aftermarket option. If you don't know whether or not you'll need a suppressor then you might be better off going with a non-threaded option.
Material
After setting a price, choose a material that best serves your needs. Experts recommend stainless steel since it's the most durable of all materials. Stainless steel barrels offer resistance to corrosion, durability, and long life. They cost slightly more, but tend to be worth the price.
Blued steel and chrome-moly steel come next on the list. These barrels come in at a lesser price. They resist corrosion and offer a long life but lose points on the accuracy scale.
Some manufacturers use aluminum to reduce the weight of the barrel. However, since aluminum is a softer metal than steel, it is possible to damage and deform the barrel with heavy use.
Barrel Length
The discussion over barrel life is still on the table. Everyone has their own opinion on how the barrel will impact your performance and reduce your mobility. Our opinion is that it comes down to your preference. The barrel length impacts your velocity which will determine how far you can travel before the bullet starts to drop. There are also legal restrictions on barrel length depending on what state you live in so be sure to check that out.
Contour
Contour refers to the outer shape of the barrel. There are many different shapes and sizes, but the contour will determine much of the weight as well as heat distribution. In many situations, gun owners look towards contour to decide on how they want their barrel to look and feel.
If the barrel is balanced and ergonomically designed, it's easier to hold the rifle which improves accuracy. You'll hear words such as lightweight, target, bull, heavy bull, magnum, and fluted when referring to contour.
Life
The life of your barrel is important because it will determine how long you can use the gun before you'll need to change it again. Ideally, you want to look for the longest barrel life possible, but with that comes added cost. If you don't shoot a lot you can sacrifice a little in barrel life to try and keep the overall price of the barrel down.
Price
Many shooters buy upgrades based on price. While the price is certainly a consideration, things like performance and quality should take precedence. After all, the Ruger 10/22 is at the top of the affordable list, so there are many options for cost-effective upgrades. Strive to get the best components in your price range. The items serve you well, last longer, and prevent you from replacing them in the near future.
Installation
You ideally want to look for a "drop-in design." This term means that the barrel is easy to install and it doesn't require any customization or gunsmithing skills to get it on there. You can install these barrels in as little as five minutes and it will save you a lot of time and money.
While it might cost a little more to buy a drop-in barrel, if you don't have a lot of experience modifying firearms, you may end up with a barrel that you can't use unless you hire someone to help you.
Guide to Installing a 10/22 Barrel
Installing a new barrel requires a complete breakdown of your rifle down to the nuts and bolts. Changing it on your 10/22 is easy if you know what steps to follow. Ensure you have a screwdriver, punch, and hex key nearby before you start working on your rifle.
Step 1: You need to seperate the action from the stock by removing the barrel band and stock retaining screw. You'll use a standard screwdriver for this.
Step 2: Disassemble the action by removing the takedown pins and separating the trigger assembly from your receiver. When this is complete you'll remove the bolt, recoil spring, and handle so you have the barrel and receiver left over.
Step 3: Take your ⅜ hex key and remove the retaining screws from the front portion of your receiver and look at your clamp when you do this. Here is a good opportunity to inspect it for cracks and you can also do a deep clean at this point as well.
Step 4: Seperate the receiver and barrel and install the new barrel. This step requires a bit of elbow grease.
Step 5: Reinstall the clamp screws, assemble the rifle by following all these steps in reverse. When it's all together make sure your rifle functions properly.
FAQs
Q: Are Ruger 10/22 barrels threaded?
A: It depends on which one you buy but you have the option to purchase them threaded or not. We would only recommend buying a threaded barrel if you plan to add a silencer to the rifle.
Q: What is a 10/22 bull barrel?
A: The term "bull barrel" refers to a barrel that is much thicker than most stock options. It's approximately one inch or more in diameter and carries less taper. These barrels absorb heat much easier and although they're heavy, they are the best option for firing a large quantity of rounds in a short amount of time.
Q: Can a Ruger 10/22 kill a deer?
A: We only recommend a 10/22 for small game and not deer. In most states, it's actually illegal to use a Ruger 10/22 on deer because it doesn't have enough knocking power to kill the animal, instead it causes them severe pain and can result in a slow death.
Final Thoughts
The barrel is the most important component of your gun because it has a significant impact on every function. Your velocity, accuracy, recoil, and reliability all stem from having the best 10/22 barrel.
This buyer's guide has a variety of barrels in different sizes, lengths, designs, materials, and more. We're sure you'll find one that will work for you!