Choosing the best Ruger 10/22 stock requires a little knowledge and understanding of the materials, ergonomics, and features. You can't pair any stock with any Ruger 10/22 and expect it to function properly.
We've combined experience and research to put together an exhaustive guide on everything you need to know about choosing the best Ruger 10/22 stock. Whether you're trying to mimic the design of another rifle or improve the durability of your gun, you'll find a stock that works for you right here.
14 Researched Sources
3.1K Reviews Considered
12 Hours Researching
18 Products Evaluated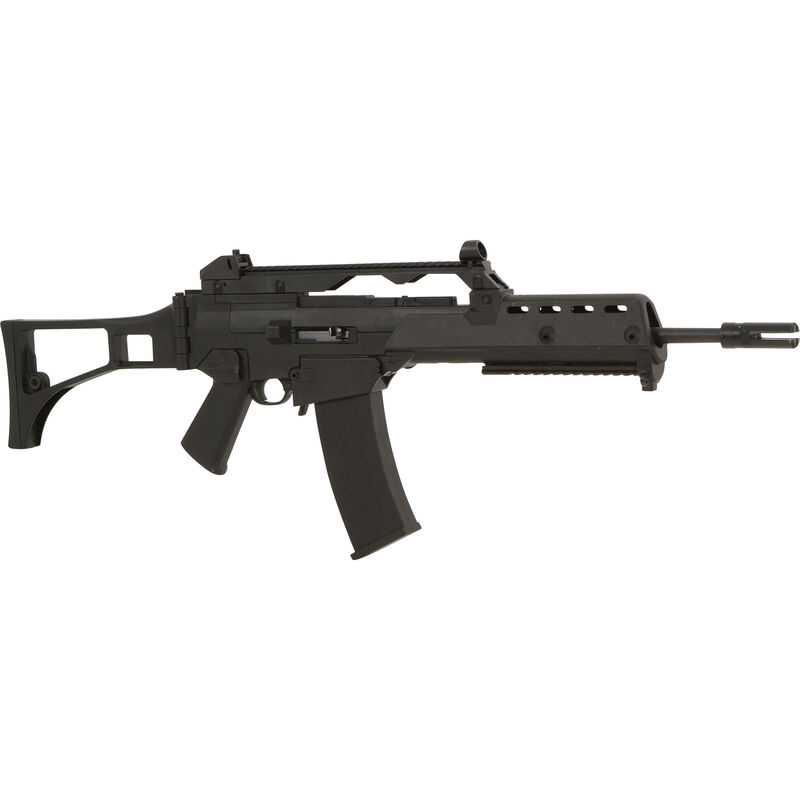 Pros:
Offers an exceptional appearance
Folding takes off eight inches
Storage compartments
Cons:
Limited to ProMags 25 round magazine
If you're in the market for an aggressive and intense looking tactical stock, you'll want to check out the ProMag Archangel Nomad stock. This one offers that military-like appearance with aluminum reinforced Picatinny rail and a handguard rail for light and laser accessories.
The best part about this kit is that it takes your plain jane 10/22 and gives it the appearance of a G36 with all the mounting points and areas for different tactical options.
This is a folding stock that takes more than eight inches off the length when you fold it, and it makes storage and transportation much easier. It has its own iron sights that you can adjust based on the wind and elevation as well.
This stock kit comes with two storage compartments where you can keep extra batteries and other things that you'll use for your optics. That's the main reason it has the additional rails.
The assembly comes with an easy drop-in installation and carbon fiber reinforcement, so it works on any of the 10/22s whether it's a rifle, carbine, or shorty.
The main issue with the ProMag Archangel is the 25 round magazines, which take away from the most desirable feature of the 10/22, which is a plentiful magazine.
Regardless of what downsides we can dig up, this stock is a great option for those of you looking for a different appearance on your "run of the mill" Ruger rifle.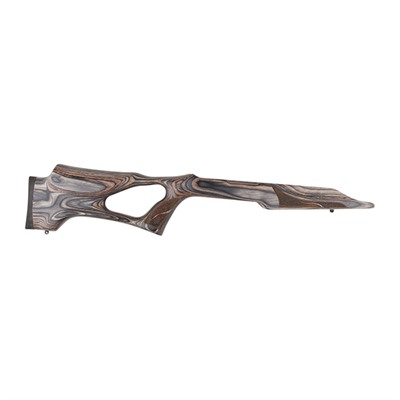 Pros:
Ambidextrous accuracy
Pistol grip comfort
Non-compression bedding
Cons:
If tack-driving accuracy is what you're after, the Tactical Solutions Thumbhole offers ambidextrous stocks in three different color choices. It comes with an ergonomic cheek piece that works for people on both sides, and it's made with laminated wood with variable patterns, so no two people have the same stock.
That said, this type of craftsmanship comes at a price. But, if you're the type of person who likes to show off his gun and you take a lot of pride in it, this thumbhole stock is well worth the hefty price tag.
Thumbhole stocks offer pistol grip support without actually being that. Some jurisdictions have limitations on self-loading firearms with that type of feature, so this stock allows you to "sort of" bypass that.
Tactical Solutions also uses a non-compression bedding system, so instead of resting in the stock channel, the barrel floats freely with the action resting on a metal pillar. This feature works much more effectively with the harmonics instead of having metal to wood contact.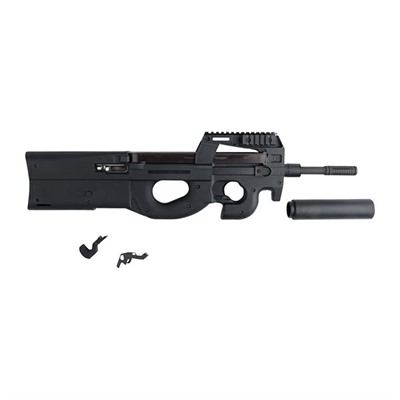 Pros:
Great appearance
Melonite treated for flexibility
Crisp break
Cons:
Doesn't work with short-barreled 10/22s
Next, we have a bullpup stock that mimics the appearance of the FN PS90. This offers superior balance in a compact design that offers much more than your typical aftermarket stock. The bullpup boasts the feeling of a 28mm caliber weapon with newer models coming ambidextrous, and the controls work for people on both sides.
The trigger is Melonite treated steel compared to aluminum, which offers better flexibility and a cleaner transfer of energy every time you pull the trigger.
You also get a CNC machined Picatinny rail with a bedding block of aluminum offering 3 and 9 o'clock positions for your choice of light options.
The primary downside here is that short-barreled 10/22 rifles won't work with this stock. It's only intended for the 18 and 18.5-inch barrels or longer. It does come with a dummy suppressor as part of the kit, but you can't attach it permanently without a professional gunsmith, and you run the risk of being longer than legal mandates allow.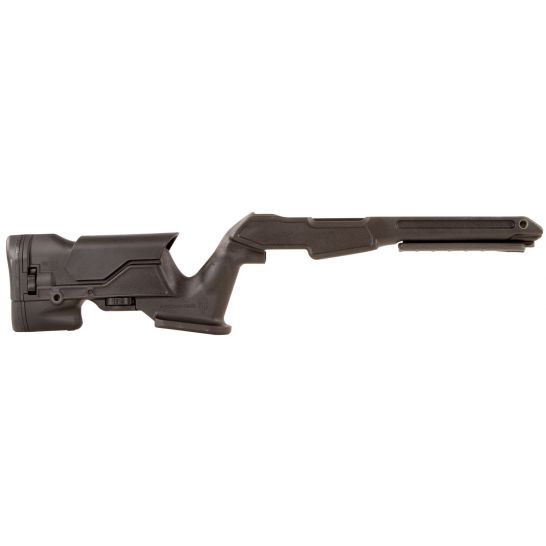 Pros:
High strength carbon fiber
Secure storage
Free-floating barrel channel
Cons:
If you're trying to step up your game from a weekend plinker to a precision shooter, you'll need the right stock to stand by you. Archangel Manufacturing offers a great adjustable bull barrel stock constructed using high strength carbon fiber for durability and strength.
It comes with a rubber recoil pad attached to an adjustable bull plate that allows you to adjust the length of pull between 13.00 and 14.25. The adjustable cheek fits right into place and offers maximum comfort and control when using optics.
The AAP1022 features a gooseneck grip and palm swell for ample storage, and the magazine is flared, which makes swapping much faster and smoother.
Underneath, we have a 6.5 inch Picatinny rail with a textured cover, and the barrel channel floats for carbine and bull barrels, and you get a tension kit included with the purchase.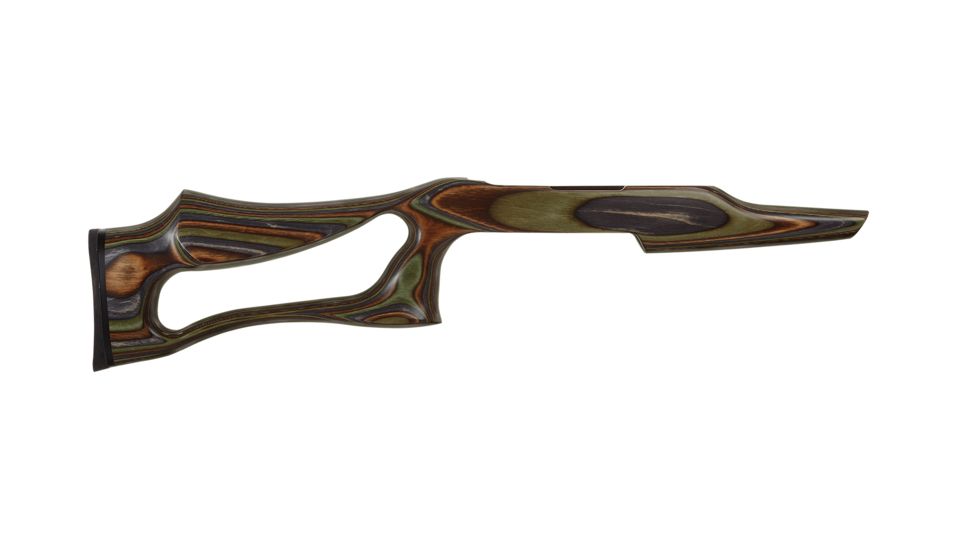 Pros:
Affordable
Lightweight
Natural and comfortable feel
Cons:
Here we have an ambidextrous thumbhole stock from Boyds. This lightweight stock has no fore-end contact with the barrel, so it will work with all contours, including lightweight, varmint, or sporter.
The grip angle allows you to fire in the most natural position, and the palm swell works on either side for comfort and control. The Hardwood SS stock also comes with a ½ inch rubber recoil pad, which ensures your shoulder doesn't slip, and it only weighs approximately two pounds so you won't be overwhelmed by the weight either.
The stock structure is made using Stratabond laminate and a laboratory acid satin finish that resists chemical and weather damage. You can choose between several different colors.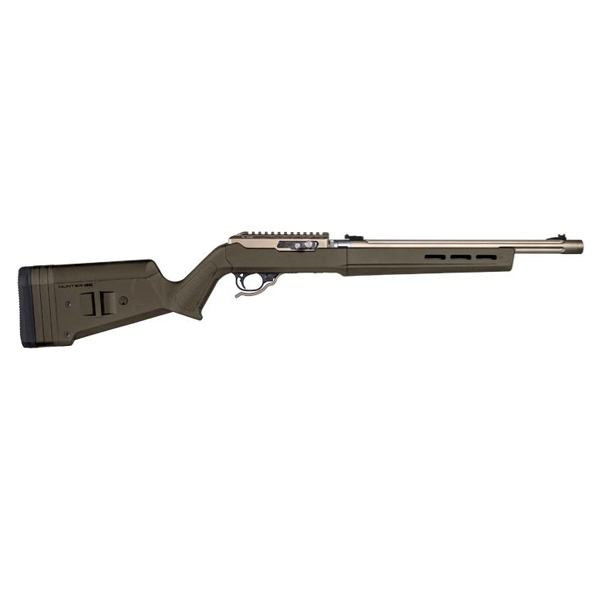 Pros:
Removable inserts for adjustability
Non-slip buttpad
Optional riser kits
Cons:
The company has expanded their firearm sales into the U.S., and now they have new stocks for AKs, Remington 700s, and the Ruger 10/22 as we're talking about here. Similar to the Hunter X stocks, these feature full black polymer with removable inserts for maximum adjustability and comb height.
When you purchase this stock, it comes with four .5 inch spacers that you have to place between the non-slip buttpad, which allows the length of the pull to stretch between 12.5 inches and 14.5 inches. You can also opt for an SGA cheek riser kit that will raise the comb height to coincide with your optics.
While the cost is a bit high on this one, it's a reversible barrel channel tray with a textured grip. All of these features ensure proper fit with the factory carbine or bull barrel models.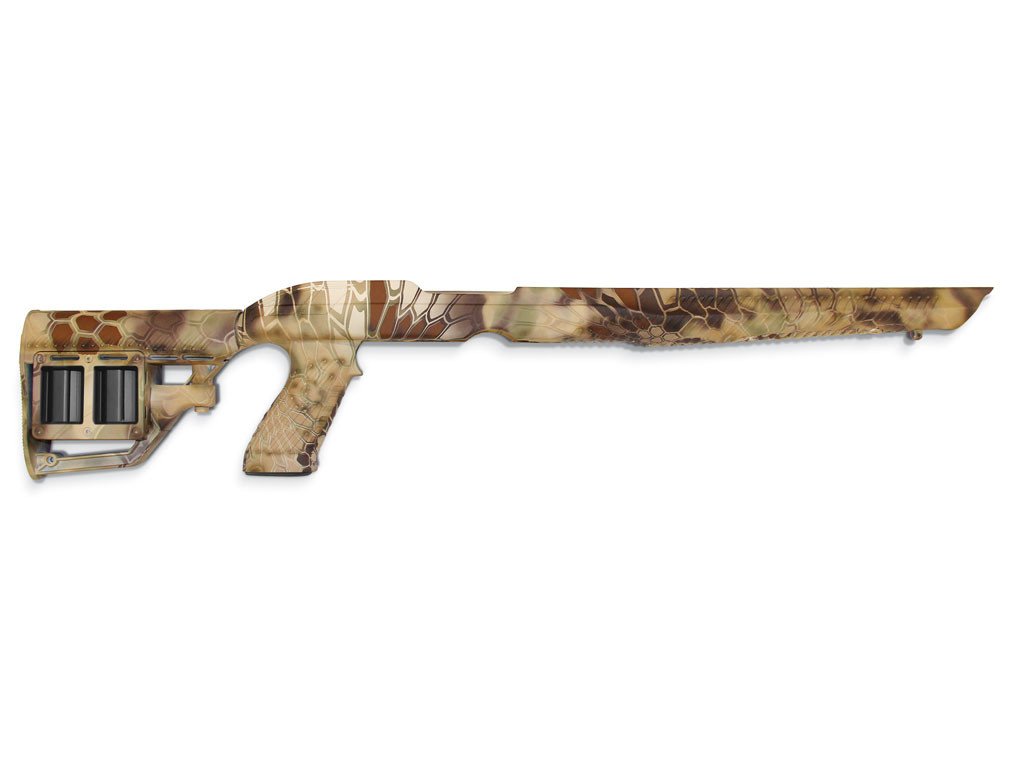 Pros:
Accommodates multiple barrels
Plenty of color choices
Built-in storage
Cons:
Installation isn't very easy
Next, we're looking at one of the newest aftermarket stock options for the Ruger 10/22. This is one of the best Ruger 10/22 synthetic stocks, and it comes in a variety of different finishes, including muddy girl, black, legends, or Kryptek camo. It also features a removable barrel insert that will always accommodate standard tapered barrels and bull barrels without any gaps.
The stock also comes with a reversible Stowaway rail for a bipod or any other accessory you might have in mind. It's an M4-type collapsible buttstock with plenty of built-in storage compartments with two additional 10/22 magazines.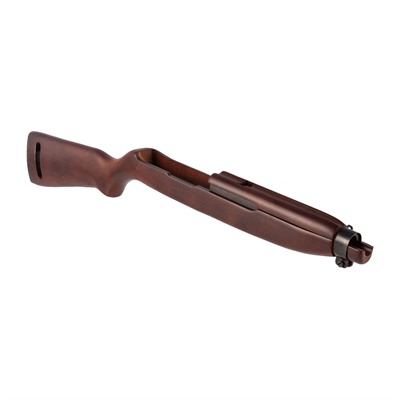 Pros:
Simple installation
Great appearance
Sealed for longevity
Cons:
Could require modification
This drop-in fit is a great choice for any 10/22 action as long as it has an 18.5-inch tapered barrel. If you have a compact or target barrel, it will require modification from a professional gunsmith.
The model is designed to replicate the dark red color of the M1 Carbine tung oil, and it does a nice job. It's finished with a polyurethane sealer, and there is also a natural model. If you choose the natural option, it only gets the sealer without the tung oil finish, and it has a blonde color.
These wooden stocks come with a stamp-steel buttplate, anti-slip grooves, and upper handguard with barrel band. They're priced affordably, and if you don't need a custom installation, it's very easy to drop-in.
Types of Stock for Ruger 10/22
Let's briefly break down each type of stock and how you need to shop around the type of barrel or design of the rifle when choosing to replace the stock. If you pick the wrong stock, you won't be able to fit it on the gun.
Bull Barrel Stock
Bull Barrel refers to the type of barrel you'll have to fit the stock onto. A bull barrel is approximately one inch or more in diameter bigger than the traditional barrel. They also carry less taper and lack coating to protect them. As a result, you need a larger stock and one with spacers, so the stock isn't constantly rubbing up against the barrel.
Wood Stock
A wooden stock is exactly what it sounds like. It offers much of the design and features of any other stock except it's made from wood. Most experts say that the best wood stock material is walnut, but we see more and more stocks made from other woods, such as maple, birch, and mesquite.
Tactical Stock
Tactical stocks are usually made of a durable composite material such as carbon fiber. These stocks are designed with ruggedness, stability, and accuracy in mind. They're usually engineered to offer the best ratio of stiffness to weight because they're most commonly used in tactical rapid-firing conditions and competition.
Synthetic Stock
A synthetic stock is a molded plastic that became the popular method of manufacturing gun stocks around the 1960s. They're inexpensive and lightweight, and we see them most commonly used on rimfires, but they lack the strength necessary to stand up to the firepower of centerfires and shotguns.
Bullpup Stock
A bullpup is defined as a rifle with the action behind the trigger group. It's built into the buttstock, which reduces the overall length of the weapon even though you can still use it with a full-length barrel. This design dates back to 1901. Around the time of the Cold War, they made significant improvements to make the design stand the test of time.
Thumbhole Stock
A thumbhole stock is very simple. They often have a design similar to some of the other options above, but the only difference is there is an opening behind the trigger where the operator can insert their thumb for added stability.
Carbine Stock
Carbine stocks are also called collapsible stocks. These are highly adjustable stocks that allow room for the barrel and stock to "float" rather than rub up against each other. For that reason, carbine stocks are an ideal choice to pair with a bull barrel.
Folding Stock
A folding stock can be any combination of all the previously mentioned options, but instead of remaining fixed, you can fold it to shorten the rifle's length.
Guide to Choosing the Best Ruger 10/22 Stock
Here are some of the factors you want to keep in mind as you shop around for the best Ruger 10/22 stock. You must think about all of these factors before making a decision.
Durability
When you're changing the original factory parts for new ones, you mustn't sacrifice durability in the process. If anything, the new parts that you install on your Ruger 10/22 should improve your rifle's durability and strength. It should be an upgrade.
There are a ton of different options available, and that's a part of what makes the Ruger 10/22 such a desirable rifle. That said, they all vary in terms of durability and construction, so you want to make sure you get one that has the right materials.
The toughest materials to look for are metal and sturdy composites such as carbon fiber. These are the best materials that you'll find in the best stocks.
You also want to consider how durability may impact the overall weight of the stock. If your stock is a lot heavier than the factory part you had on there before, it can throw off your precision, which will impact your accuracy and ability to aim properly. If that's the case, you'd be better off sticking with the original stock.
What we're trying to say is, don't sacrifice accuracy and functionality for appearance. Most of the time, the reason many people lean towards changing the stock on their Ruger 10/22 is that they want to make it look cooler. Not because they're trying to increase the performance of it in any way.
Ergonomics
Besides appearance, many people swap out their stock to improve the stability, comfort, and control of the rifle. If you choose the right stock, you should experience improvement in all of those areas. If you're not, chances are you chose something that doesn't fit properly, or it doesn't offer the necessary features you need to fire your rifle correctly.
Along with ergonomics comes the installation process. Many Ruger 10/22 stocks are "drop-in," which means that anyone can install them, and they don't require the assistance of a gunsmith or installation professional.
Keep in mind that a lot of manufacturers may say something like this only for you to find out that it's not a drop-in when you get it home and try to install it. There's also fine print in these situations. Many stocks work fine for rimfires, takedowns, and carbines, but you can't use them for short-barreled Rugers, so it's important that you understand that.
Bonus Features
Who doesn't want extra features from their Ruger 10/22 stock? We live in a world where stretching the dollar and trying to get the most for our money in everything we do is incredibly important. That's just as true when talking about upgrading your firearms.
Some of the stocks recommended above come with added storage compartments to store things like batteries and other accessories you'll use for your optics. Are you looking for somewhere to store magazines for easy ammo swapping and magazine release? What types of features do you desire?
You'll want to have a few of these questions in mind as you're shopping around, so you make sure you get the best Ruger 10/22 custom stock for your needs.
Best Ruger 10/22 Stock FAQs
Here are some of the most frequently asked questions concerning Ruger 10/22 stocks and the many variations:
What is a stock?
The gunstock is also known as a shoulder stock or buttstock. It's the part of the gun that supplies the necessary support to allow someone to hold it, aim, and fire. The stock is essentially a shell that holds the barrel, action, and firing mechanism.
What is the most accurate stock for a Ruger 10/22?
The accuracy varies entirely on the stock you purchase and the person behind the scope. Generally speaking, bull barrels are the most accurate stocks for Ruger 10/22s, but the difference is so minuscule that it only pertains to those who will notice shot groups within hundredths of an inch.
What is the best material for a rifle stock?
Wood is considered the best material for rifle stock because it offers an exceptional appearance, and it generally holds up longer than synthetics. The main downside of wood is the fact that it's a natural material that expands and contracts. This factor can eventually lead to stability and accuracy issues.
What is the strongest material for a rifle stock?
It's hard to pick one material and claim that it's the strongest because there are so many factors to consider. In many cases, wood is the strongest material because it doesn't have as much of a risk for human error. But overall, carbon fiber is likely the strongest because it doesn't have a risk of expanding over time.
Final Thoughts
You should have a firm understanding of how to choose the best Ruger 10/22 stock by this point. All of the options recommended above come from the most reputable manufacturers, and these stocks are highly respected by gun owners all over the country.
Make sure to keep in mind the type of Ruger rifle you have when choosing the ideal stock to go with it. If you're unsure, refer back to the "Guide to choosing the best Ruger stock" section above to guide you.
Based on our research and experience, we've determined that these eight Ruger 10/22 stocks are the best on the market. Use the buying guide to help decide which one you'll install for yourself.