So, you want a Ruger 10/22 suppressor, but you want to make sure you get one that doesn't impact your performance and isn't a pain to install? We've got a few options that will solve your decibel problem, but installation, cost, and maintenance are always a factor, so you'll want to weigh the pros with the cons. 
In this guide, we're taking an in-depth look into Ruger 10/22 suppressors, and we've found the best options available for purchase online.
Top Ruger 10/22 Suppressor Picks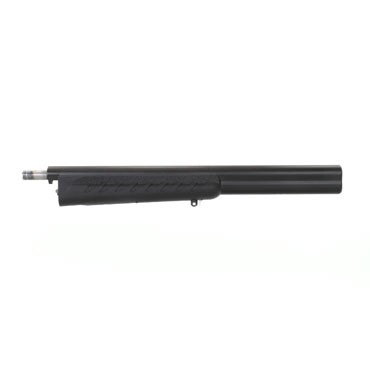 Specifications:
Caliber: 22LR
Material/Finish: 17-4 Stainless and Aluminum
Effective Barrel Length: 10.62"
Legal Barrel Length: 16.12"
Weight: 42 ounces
Our first choice for a suppressor is one that entered the market in 2016. The first silencer from Ruger was a direct-thread model soon followed by this one. It's an aftermarket accessory requiring an NFA tax stamp, and the integrally suppressed replacement barrel is designed for use with any of Rugers takedown-capable rimfires. It allows you to quickly and easily convert the host platform into a suppressed rifle.
The Ruger 10/22 suppressed barrel is 16 ⅛ inches long and weighs approximately 42 ounces. It consists of 416-grade stainless steel with a six-inch series of baffles that Ruger calls their sleeved barrel assembly.
It uses polymer fore-end bears and the same ribs as the molded-in texturing of the original gun's standard assembly; it's just a little bit shorter. Due to the assembly screw's location, it gives the appearance of a shotgun with a 1:16 right-handed twist rate.
The Ruger Silent-SR ISB reduces sound pressure levels down to 113.2 dB on average when using standard velocity ammunition. The average retail price of this Ruger 10/22 suppressor is $629.00.
Some additional features include:
Lightweight, balanced, and portable. Once you install this suppressor onto your firearm, the center of gravity is located closer to the receiver, which makes the rifle more comfortable to operate.
Simple to disassemble and clean. All the internal components of the rifle seal together, which keeps byproducts away from the tube. One solo screw retains the baffles and caps, which makes it easy to remove as well.
Maximum strength. The stainless steel barrel, baffles, and front cap pair perfectly with the aluminum sleeve that is permanently attached to the barrel, which reduces the overall length and minimizes weight, all while ensuring maximum strength.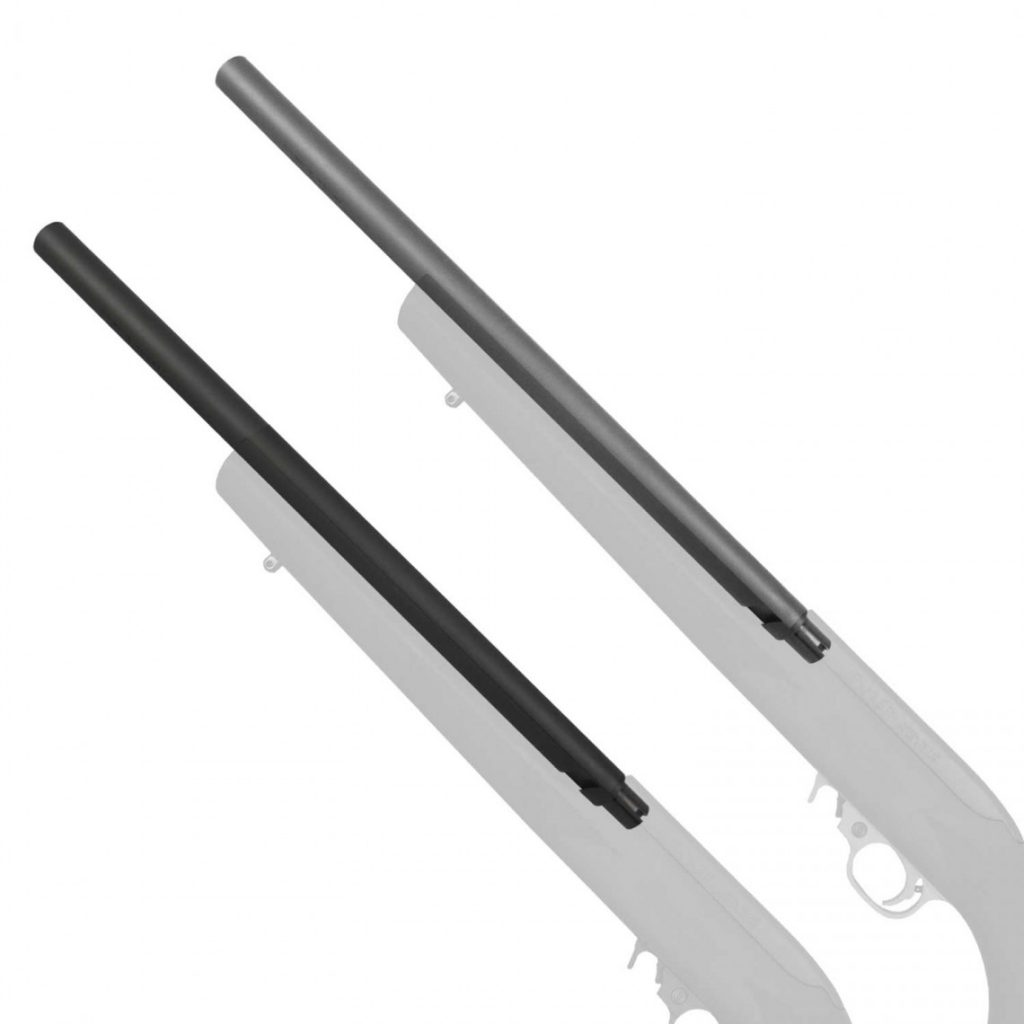 Specifications:
Caliber: .22
Barrel Length: 18.0 Inches
Barrel Diameter: .920 Inches
Weight: 2.2 Pounds
Material/Finish: Stainless Steel/Black
Suppression Level: 121 dB CCI std
Yankee Hill Machine's Integrally Suppressed Barrel is a great option if you're looking for the latest technology and sound construction. It's a standard 10/22 bull barrel with front end caps that accept a hex tool. This means that you can remove the monocore baffle stack from the barrel.
So, it's ultimately a single piece of durable stainless, so there are no concerns with gaps or color mismatches. There are no issues with diameter inconsistencies either because the suppressor is threaded into the barrel using the hex adapter. It makes the whole process much easier for cleaning, insertion, maintenance, and removal.
It's uncommon to be able to fire a 10/22 without needing hearing protection, but even with supersonic rounds, the noise level is dramatically reduced to that of a pellet gun. All you can hear is the cycling of the action and the ping. This suppressor for Ruger 10/22 is a breeze to install, and it holds up well against malfunctions. It generally retails for around $450-500.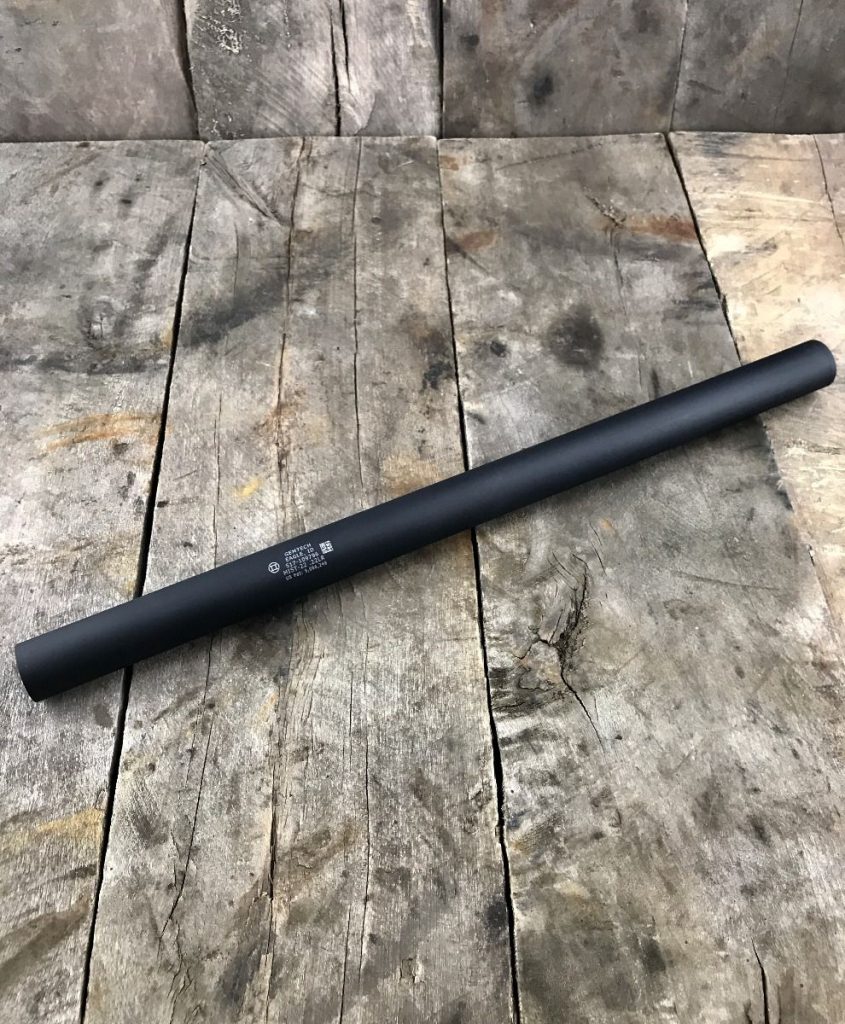 Specifications:
Caliber :.22LR
Sound Tested 112dB Ruger® 10/22®
Diameter: .920″
Overall Length: 17.0″
Weight: 18.8 oz.
Mount Type: Fits into Ruger® 10/22® receiver
Tube Material: 6061 T6 Anodized Aluminum
Full Auto Rated: No
Tube Finish: Black Anodized
This Ruger 10/22 suppressor uses something they call "G-Core" technology. It's a patented design that creates a lightweight, easy to maintain, and incredibly quiet package. The MIST_22 is a great way to maintain a compact feel of your rifle without adding extra length due to the suppressor. The barrel batches with a 22LR chamber and features a 1-16" RH twist for both commercially available bull barrel stocks or specifically designed Ruger 10/22 Takedown rifles. 
The company hails from Idaho, and they're committed to making sure that your rifle stays lightweight, easy to maintain, and quiet without compromising any of the other components. Overall, the feedback on this rifle silencer is excellent, and it retails for approximately $600.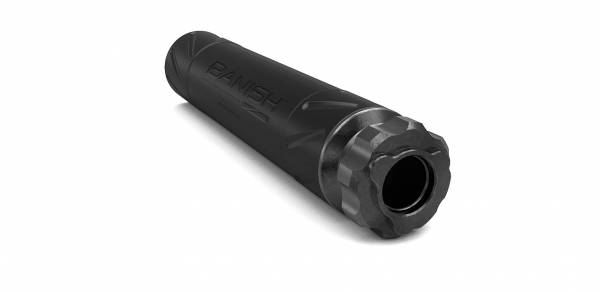 Specifications:
Length: 5-3/8″
Diameter: 1″
Number of Baffles: 8
Weight: 4.1 oz
Material: Titanium
Thread Pitch: 1/2×28
Self-Service: Yes
Caliber: 22
Caliber Range: .17 HMR – 5.7×28
Color: Black
Finish: Gun Kote
Mount Style: Conventional 1/2 x 28 (Class 3A) threads .400″ in length.
Full-Auto Rated: Full-Auto Rated
The Banish 22 is designed specifically for rimfire rifles and pistols. It has eight baffles and a Link Together Connection, which makes it easier to assemble than some of the other options on this list. The simple assembly prevents debris and carbon from fusing them together, and it ultimately prevents that buildup from reaching the tube. It's an ideal choice for varmint hunting and small game.
This suppressor requires disassembly and cleaning every 100-200 rounds to avoid having the baffles fused together. If carbon gets in and around the raffles, it will prevent disassembly because you won't be able to slide the baffles out beyond the buildup. The manufacturer stresses the importance of cleaning it every 200 rounds max.
Some additional features include:
Suppresses recoil. In addition to suppressing noise, the internal baffles handle gas in a way that helps reduce recoil too.
Multi-caliber design. All of the Banish line of suppressors accommodate calibers that have a smaller diameter than marked.
Can-Clean. The trademarked "Can-Clean" technology makes it easy for you to clean by not requiring any special tools to tear down your suppressor. This factor makes it one of the fastest cleaning suppressors on the market.
Whisper Tech Tube. The unique design components of the Banish 22 continue with their trademarked "Whisper Tech Tube." It's made using a lightweight titanium alloy that can be modified between seven and nine inches to meet your needs.
Best Overall Suppressor for Ruger 10/22
Our top pick is the Ruger Silent-SR ISB. We always prefer to pick Ruger aftermarket products for the 10/22 because they're always the most compatible and easiest to install. This suppressor is lightweight, compact, and well balanced so it doesn't impact your accuracy or your ability to handle the rifle.
Also, since we're dealing with a Ruger product, it'll be easier to perform and hire for maintenance on your rifle. While the cost is a bit steeper than some of the other options we recommended, we think it's worth putting an extra $100 or so to get something that will work properly and hold up over time.
Choosing the Right Suppressor for Your Needs
When you're looking for a Ruger 10/22 takedown suppressor, it's important to weigh all the different factors that should go into your decision. Everyone has different needs, and when you consider the $200 tax stamp, you'll want to make sure you get the right one.
Of course, the type of firearm you're using will ultimately determine what type of silencer you get. Here are the most important factors to consider before pulling out your wallet:
Weight
Maintenance time and cost
Impact on accuracy
Durability
Cost
Let's break each of these down briefly so you can understand how these factors determine which suppressor serves you the best.
Weight
The weight of your suppressor will have an impact on your accuracy and your ability to handle your rifle. These two go hand-in-hand, so getting the lightest weight suppressor is the obvious best choice.
Maintenance Time/Cost
Some suppressors have features that make them easier to maintain. For example, the "Can-Clean" technology on the Banish 22 makes it super easy to clean because the whole suppressor uses one tool. Easy maintenance and cleaning might not seem like a "glorious" feature up front, but you'll be thankful down the road.
Impact on Accuracy
Some suppressors make the rifle more difficult to handle, which affects your ability to fire it properly. When you have a harder time handling your rifle, it will almost always impact your performance.
Durability
The number one thing that determines the durability of a suppressor is the materials used for it and the protection you get against debris and dust from entering during the cleaning and maintenance process. Many suppressor manufacturers offer features that protect against these types of problems.
Cost
The amount of money you have to spend is a clear factor as well because you have the added $200 tax stamp to factor in. Most suppressors will run you somewhere between $450-650. It's a big expense, so make sure you understand what you're getting into and whether or not you need it.
FAQs
Now that you've seen the best suppressors for Ruger 10/22, it's time to answer some of the most popular questions revolving around putting a suppressor on your rifle.
Are integrally suppressed barrels legal?
Are they legal? Yes and no. They're legal as long as you follow the rules that the law puts in place. For every integrally suppressed barrel you own, you're required to possess a $200 federal tax stamp from the ATF. When you're using a removable suppressor, the advantage is that you can transfer it between weapons. When you use an integrally suppressed barrel, you don't usually have that luxury, so you'll need to purchase a separate silencer for each rifle you want to install. That can quickly add unwanted costs and fees that you didn't expect going into the process.
So, if you want to keep everything above the law, yes, IS barrels are perfectly legal.
How quiet is a suppressed 22?
Of course, it depends a lot on the ammunition you choose, but most people experience a dB reduction of between 20-25 dB. That would bring most Ruger rifles down to approximately 115-120 dB. On some tests we located on a Ruger 10/22 with Federal ammunition, we made the following determination.
When using a YHM silencer, there was a 20.5 dB reduction in noise, bringing the total decibels to 120.8, which is average and right around what we expected.
Can I buy a suppressor without a tax stamp?
No, you cannot purchase a suppressor without a tax stamp. You will have to pay for one when you purchase the silencer, to begin with, but there are no special licenses or fees to pay. Many people think you need a "Class 3" license to own a suppressor, but that's not true.
What is the difference between a suppressor and a silencer?
Having a Ruger 10/22 suppressed barrel is the same as owning a silencer; there are no differences. The word silencer is a loosely used term because no firearm is ever "silenced" instead, we prefer to use the term suppressed because you're merely minimizing the amount of noise the gun creates.
How to add a suppressor to a Ruger 10/22?
You have two options for adding a suppressor, either you get the barrel threaded, or you buy a slip-on adapter for your Ruger. If you decide to go with the slip-on adapter, it's recommended that you check your attachment frequently to ensure that nothing has become loose. I don't recommend using the adapter because it's not a permanent fix, but it is an option, and they're affordable.
Final Thoughts
Choosing a Ruger 10/22 suppressor is not easy, especially if you don't fully understand what you need. There are plenty of options available, and they all serve the purpose of reducing the decibel rating of your Ruger 10/22, so you don't need to wear ear protection when firing.
It's important that you don't sacrifice accuracy, handling, or performance when installing a Ruger 10/22 suppressed barrel, so choose carefully and make sure that your choice is compatible with your rifle.