Disclaimer: This page contains affiliate links, meaning we receive commissions for any purchases made through the links on this page.
The Ruger 10/22 gives shooters the unparalleled opportunity to upgrade from the most standard model to a real work of art.
William B. Ruger and Henry Sefried set out to design a .22LR rimfire rifle that would be appealing to everyone from backyard plinkers to competitive shooters. In 1964, Ruger introduced the Ruger 10/22 which would become a top seller and the best-loved .22 LR on the market. The semi-automatic rifle comes equipped with 10 round magazines, considered to be more reliable than aftermarket mags. However, the 10/22 accepts larger magazines, up to 25 rounds.
Experts and hobbyists turn a modification of the Ruger 10/22 rimfire rifle into an art form. Dozens, if not hundreds, of combinations are made possible by changing one or more aspects of the weapon. Below are the top upgrades and modifications made possible through factory and aftermarket components.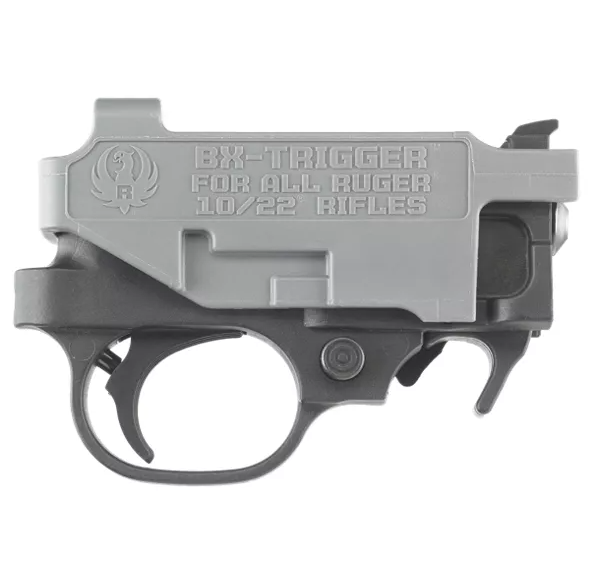 Best Ruger 10/22 Trigger
Many of Ruger's factory components top the lists of must-haves. In this case, the Ruger BX Trigger receives the top review. The trigger is relatively inexpensive and delivers excellent performance with a crisp 2.5-3 lb. pull weight. Custom triggers, often preferred by competition shooters, will cost more than twice the amount of the Ruger BX Trigger.
Best Ruger 10/22 Magazine
Ruger's BX-1 10 round mag receives kudos from many users, but if you want to bump it up a notch, the Ruger BX-25 Clear Sided magazine is the way to go. The metal feed lips ensure reliability, and the clear casing makes it handy to see how many rounds are left in the mag. The decision you need to make is how much ammo to use.
Best Ruger 10/22 Stock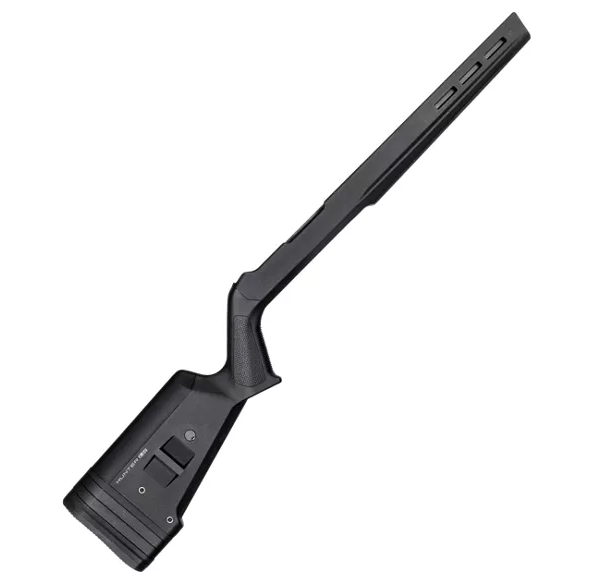 The most popular stock upgrade goes to the Magpul Hunter X-22 Adjustable Stock. Shooters can purchase more dramatic upgrades, but the Hunter X-22 delivers improved adjustability and ergonomics. The stock is compatible with Ruger factory components and aftermarket barrels up to a 0.92″ diameter with a minimum length of 12.5.
Ruger 10/22 Must Have Upgrades to Explore
"Must-haves" may be a matter of opinion rather than necessity. However, the following would make your Ruger 10/22 sing like no other.
Read on for more Ruger 10/22 upgrades:
Best Ruger 10/22 Models
The number of Ruger 10/22 rimfire rifle models seems to grow by the day. Currently, the company manufactures 14 models with eight variations. Add in the distributor exclusives, and the number soars. These are the most popular models: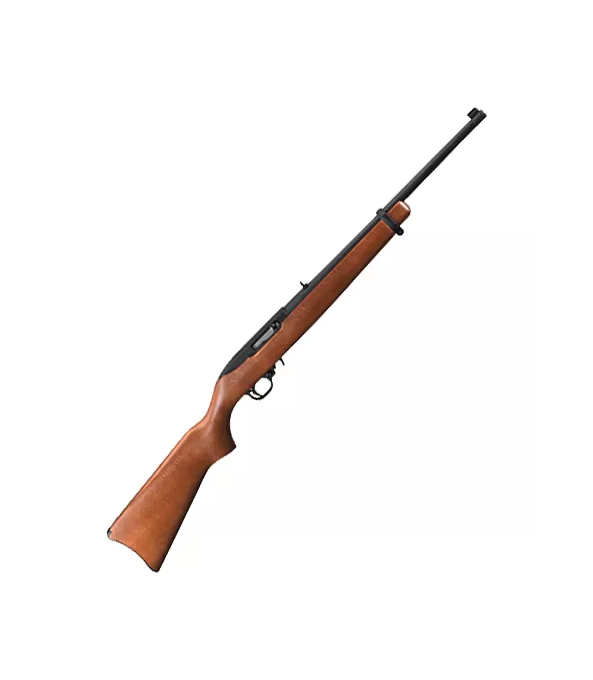 Users often refer to the Ruger 10/22 Carbine Model 1103 as the Standard Carbine. The Model 1103 rimfire rifle most closely mirrors the 1964 original model. Best used for plinking and general use, this design comes with an 18.5" barrel and 37" overall length. It features a gold bead front sight and adjustable rear sight. The classic hardwood stock gives it an old school look. The Standard also offers the option of having a black synthetic stock.
The compact and lightweight Model 21194 makes a good choice for small game and varmint hunting. It's easy to shoot, rugged, and the black synthetic stock makes it weather resistant. Perhaps the best feature of this carbine lies in the Weaver™ 3-9×40 scope with a Dual-X reticle. This scope boasts great features like being shockproof, waterproof, and fog proof.
Introduced in 2018, the 10/22 Competition is the youngest of the Carbine family. Ruger designed this gun to give Rimfire Challenge competitors a top of the line firearm ideal for the range. Optimizations include the 6061-Tg511 aluminum receiver, integrated 30 MOA Picatinny rail, adjustable cheek rest, and second bedding lug to keep the stock firmly attached. The 16.125", 4140 steel free-floating barrel is fluted for improved heat dissipation and reduced weight, the threaded muzzle makes it easy to attach barrel accessories.
The Takedown Model 11112 is the ideal survival rifle. The synthetic stock is lightweight and easy to assemble and disassemble. The rifle has the shortest overall length of the 10/22 family, coming in a 16.4" long. In addition to the gold bead front sight, adjustable rear sight, and threaded barrel, this model offers a flash suppressor feature not found on other models.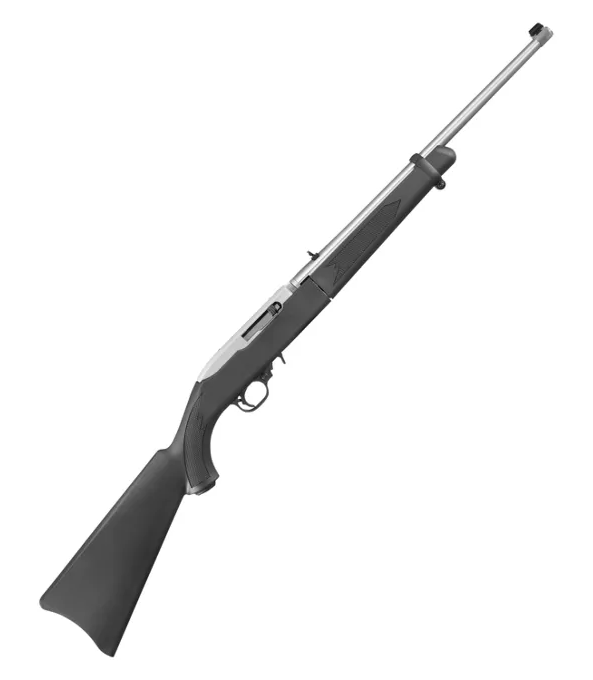 The Compact Model 31114 is a scaled-down version of the standard 10/22 Carbine. The shortened barrel measures 16.12" instead of 18.5", has a shorter overall length of 34" instead of 37"), and a shorter pull length of 12.5" instead of 13.5". The size makes the gun perfect for kids or people of smaller stature. It also features fiber optic sites with an adjustable rear sight.
When it comes to upgrades, the Tactical Model 1261 can't be beat. The upgrades and aftermarket accessories for this model are numerous. Much like Glock's handguns, it's possible to build a complete Tactical Model 1261 from aftermarket parts. Ruger designed the Model 1261 to embrace upgrades. Plus, the 10/22 Tactical is lightweight enough to handle as many accessories as your heart desires without making it unwieldy.
Last but not least is the Takedown Model 11100. Many say it's the best 10/22 overall. Users can separate the barrel from the action by pushing a recessed lever and then twisting apart the two subassemblies. Cutting the 37″ rifle in half makes it easier to stow and transport the gun. Like other models, it is fully customizable.
Other Ruger 10/22 Upgrades to Explore
Best Auto Bolt Release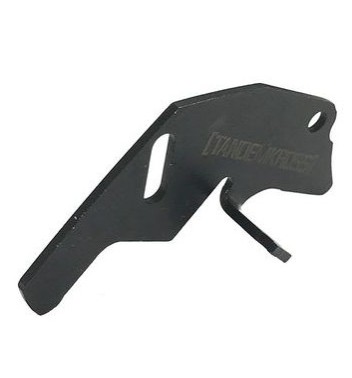 One of the few complaints about the 10/22 involves the auto bolt release. Locking the mechanism open isn't a problem until you try to pull the bolt handle back to release the lock. The task is difficult at best. Installing an auto bolt release removes the annoyance of this issue. The auto bolt release will lock the bolt open, as before. However, when it's time to release the bolt, you simply pull the charging bolt handle back and then let go. The lock is automatically released. The problem is easy to fix if you have any experience with working on guns. Otherwise, consider upgrading to one of the following:
The Guardian Bolt Release or the Volquartsen Bolt Release. The prices are the same and it's a very small price to pay for the convenience.
Best Sights
The topic of sights sparks controversy. Many say that stock iron sights are no good. The factory often makes the rear sights so that they flip down and out of the way for something better. It makes sense to follow new sights with a scope upgrade.
The most common are:
The AR-style rear sight (NDS-26) has an easily adjustable sight to combat windage and provides a Picatinny rail for mounting scopes, red dot sights, and other accessories.
Note that you'll also need to upgrade the front sight. Try the NDS-40.
A Picatinny rail allows you to upgrade to almost any Red Dot sight. The top pick for Red Dot is the Holosun HS403C. It offers the following: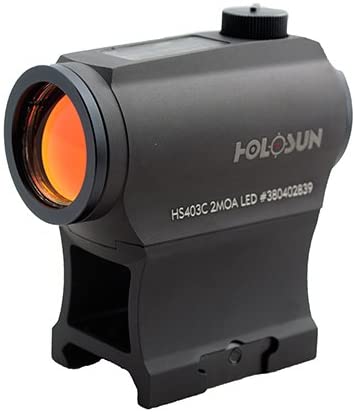 Solar and battery-powered
Up to 50,000 hours of battery life
Automatic or manual brightness adjustments
2 Night vision settings
2 MOA dot size
20mm window
Weighs 4.3 oz
2.44″ X 1.18″ X 1.45″
6061 aluminum housing
Functional between temperatures of -22°F to 140°F
Submersible up to 1 meter for half an hour
The next on the list is the Trijicon MRO Red Dot Sight. It has a huge objective lens and delivers an excellent sight picture. It also offers the following:
Up to 50,000 Hours of Battery
7075 (T6) Aluminum Housing
Night Vision Compatible
Operating Temperature Range of -60°F to +160°F
Waterproof up to 100 Feet
25mm Objective Lens
5.8 oz w/ Battery & Lower 1/3 Mount
2.6″ x 1.7″ x 2.73″ (L x W x H) w/ Lower 1/3 Mount
0.5 MOA Windage and Elevation Adjustments
Best Sling and Sling Mounts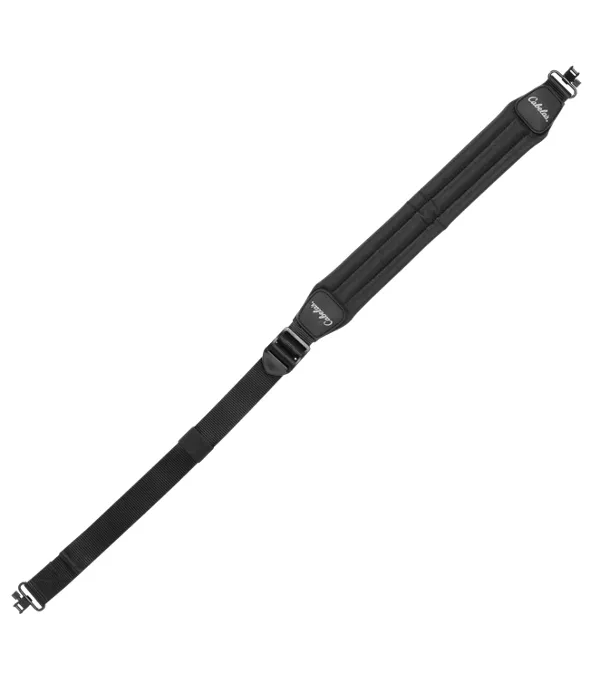 If you plan to benchrest your .22LR, a sling isn't necessary. However, if you're going to a shoot where a sling and mounts will benefit you, then any USGI should do the trick. Keep in mind that most stocks are wood, so make sure you get mounts that will screw into the material. When it comes to sling swivels, the "quick detach" type works best. Be sure that the swivels match the sling width, or they won't work.
Best Trigger Upgrades
Ruger's trigger pull works fine, although it's a bit heavy with a lot of over travel. The trigger is easy to upgrade, so why not? Polishing the trigger will remove some of the grit, and it's easy to find a tutorial on YouTube. In the end, you'll have a trigger that's smooth and crisp. Be careful, though, since doing it wrong can damage the trigger or make it unsafe.
Drop-in trigger
If you're not a DIY kind of person, invest in a drop-in-trigger upgrade. Ruger sells them, of course, but the Volquartsen is more popular.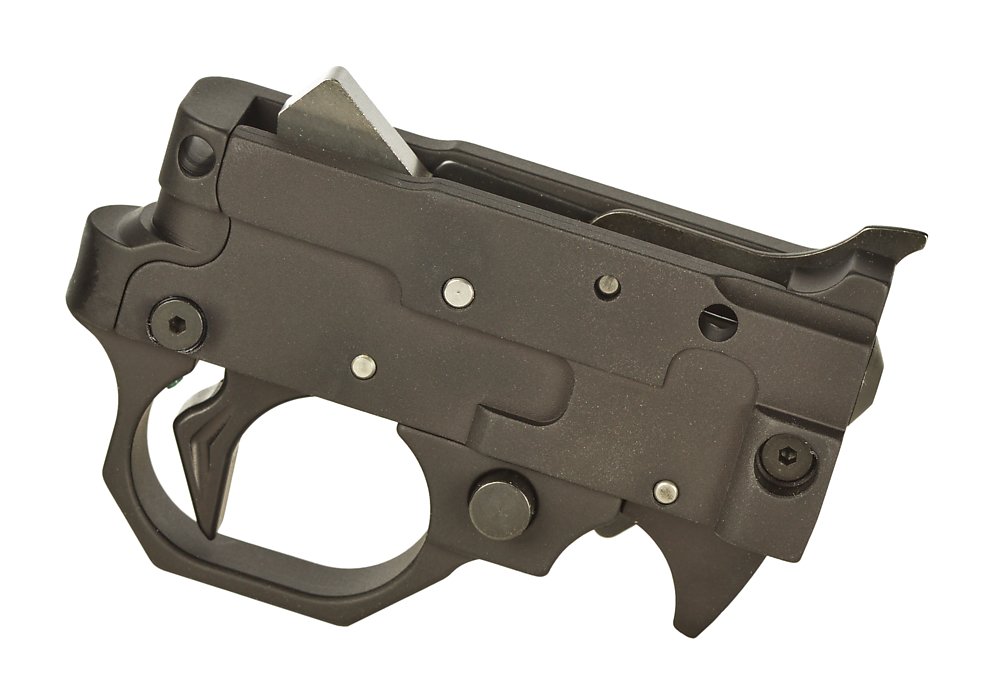 It isn't necessary to use a trigger with an over-travel stop screw, but it's a nice addition. It prevents the trigger from being pulled back farther than necessary. For just a few bucks at Brownell's or Amazon, it's a nice treat.
Some upgrades include:
Ruger's upgrade trigger is the BX Trigger. For less than $100 at Cabelas, you can have a trigger with an easy 2.5-3.0 lb trigger pull. Plus, it gives a clean break and has minimal over-travel.
Volquartsen sells a lot of Ruger upgrades and this one is worth the price tag. It has an auto bolt release, extended magazine release, glass rod break, and is adjustable for reducing overtravel.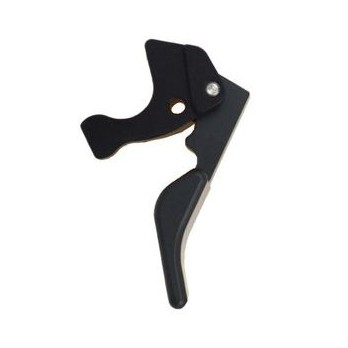 Best Extended Mag Release
The stock magazine release lever on the 10/22 is acceptable if you don't mind moving your hand to find it. Large hands might have a tough time grabbing onto it. Smaller hands have to move from their proper position and may cause the gun to go wide, causing a safety issue. The answer to those problems is installing an extended mag release. You can drop the magazine without moving your hand and potentially messing up your aim. Hit the release with your finger and let the mag pop out. The price is low and worth the money for the convenience. The top choice:
Fireswitch's dual-action release allows the shooter to push or pull the extended lever to release the magazine. The release extends beyond the stock release lever, putting it within easy reach for all users. The Fireswitch is compatible with Ruger 10/22, 10/22 Takedown, or 22 Charger.
Best Stock Upgrades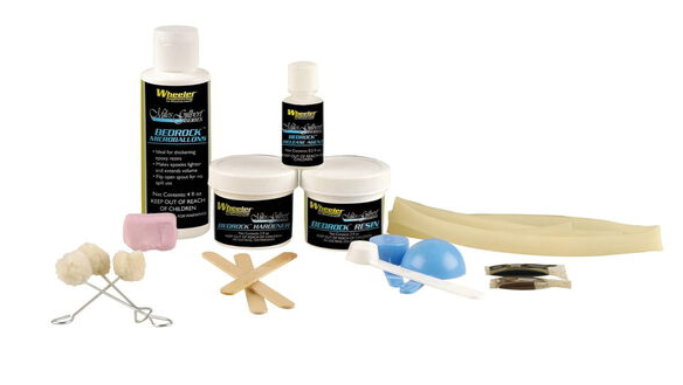 Selecting the best stock is meaningless if it's not bedded correctly. Bedding involves making a perfect match between the stock and the action. Most smiths use an epoxy bedding process. Bedding kits exist, like the Wheeler Bedrock Glass Bedding Kit, but it's easy to mess up if you don't know what you're doing. You might be better off going to Chacon or another gunsmith to get the job done.
The Ruger 10/22 comes with a wood or synthetic stock. The main reason to change the stock is to have a different look or feel. Be careful when shopping for a stock upgrade, keeping in mind that most fit a .92 diameter barrel.
Synthetic
You'll find synthetic stocks are common on a Ruger 10/22. Some like the feel and option to change color, shape, and size. Also, some stocks weigh less than others.
Laminate with Thumbhole
Laminated wood stocks offer several advantages. Shooters can opt for a bull barrel or improved ergonomics. Also, the thumbhole makes the rifle feel more like a pistol when firing.
Tactical
Do you want to make your 10/22 look more like a sporting rifle? You can upgrade to a Tapco stock from MidwayUSA. While the Tapco is the most popular, other stocks offer an adjustable buttstock and the look and feel of a sporting rifle.

Popular choices:
This one gives an AR-style tactical look because of the pistol grip and adjustable buttstock. It enables the use of Picatinny rails and a regular + angled buttstock. Users can choose between a Regular, Bull Barrel, or Takedown.
Hop over to Amazon to pick up the Hogue Overmolded stock. Available in Regular and Takedown, the rubberized grip feels great in hand.
This is a good choice when looking for precision shooting. Keep in mind that it's only compatible with bull barrels.

Made by Israeli company FAB Defense, the Magpul X-22 Hunter has a great overall feel. The adjustable inserts match the length of pull. It fits with regular or bull barrels. It folds down to 26" overall length, but make sure it fits within local and state gun laws before purchase.
Boyds ranks at the top for laminate wood stocks. And the AT-One and AT-One Thumbhole are no exception. It's easy to match the feel and style of what you want with their wide selection of styles and colors.
Best Barrel Upgrades

A new barrel is an ultimate upgrade to a 10/22. Stock barrels tend to be adequate for most shooters. When a shooter can outdo the accuracy of a stock barrel, it's time to upgrade. The first thing people notice about an upgraded barrel is the improved accuracy. The key to finding the right barrel is to ensure the fit. Most barrels have a larger outer diameter of .920, instead of the stock tapered barrel. Also, make sure you know if you are going to use a tapered or bullpup barrel.
The materials used in barrels vary widely. It comes down to how much money you want to spend. For a lighter barrel, consider using aluminum lined Chromoly steel. Carbon fiber lined with Chromoly steel is another option. Perhaps you want stainless steel. It all comes down to use and cost.
Top picks for best upgrades include:
You can pick up an E.R. Shaw Target Barrel at Brownell's for about $100. Styles include stainless steel and fluted varieties.

The Volquartsen Carbon Fiber barrels are a bit pricier at $270 but are ultralight. Some come equipped with built-in compensators.
Green Mountain Rifle Barrel Co. sells affordable barrels that are quite accurate. The price makes Green Mountain the first stop for many shooters.
Best Scopes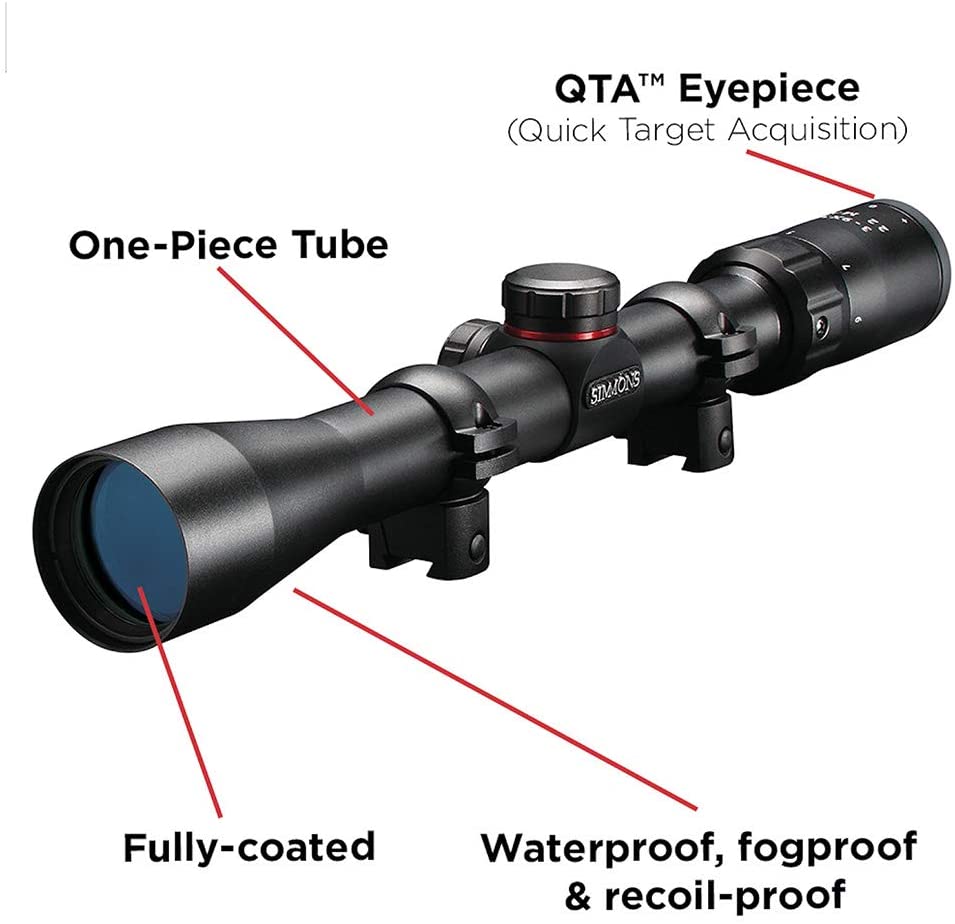 A scope is a vital tool for those without perfect eyesight. Having the ability to see past 100 yards with 3x magnification makes all the difference when sighting a target. You may not be shooting that far with a 10/22 so you can buy a scope with variable power to get the most for your money.
Scopes vary widely in price and quality. You can pay anywhere from $20-$500 but it's not smart to pay more for the scope than you did the rifle.
Here are some top picks for the best upgrades:
Simmons Truplex ranks as the best budget rimfire scope at around $50. It's made specifically for a .22 LR rifle. The scope's main tube is made from one piece to make the scope stronger, lighter, and more durable. Simmons makes its lenses with high-quality optical glass with HydroShield coating to provide a sharp, high contrast picture in all ty0pes of weather. Mounting rings come included.
Another budget-friendly scope is the Tasco Rimfire Series .22 Riflescope. It's a great choice for novices as well as for plinking and small game or varmint hunting. Tasco makes the scope easy to mount with included scope rings and adjustment knobs. The lens works well at short range. The parallax can't be adjusted, so anything over 50 yards might be an issue. The Riflescope has a solid construction and is lightweight.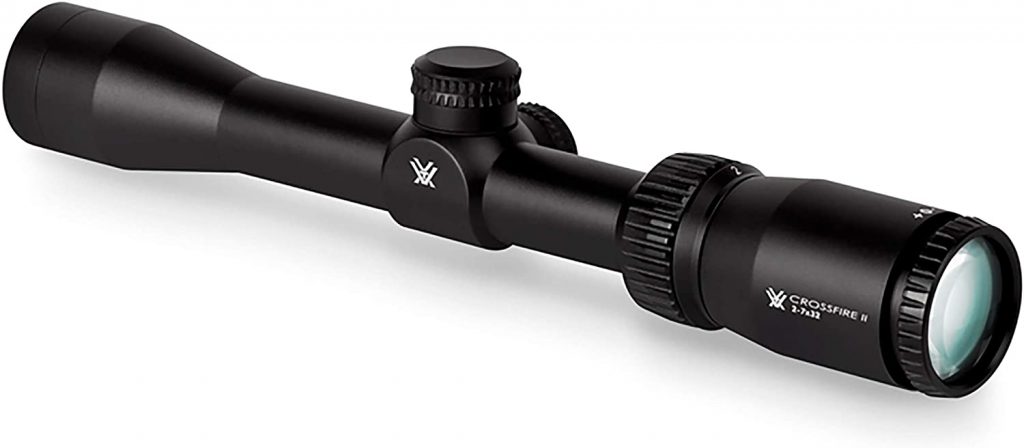 Most people know Nikon dominates the camera space but don't think of them when it comes to scopes. The Prostaff Rimfire II proves that Nikon does several things well. The riflescope takes on the other competitors to offer a clean, crisp image at longer distances. The scope's BDC reticle has see-through ballistic circles to help shooters adjust for bullet drop up to 150 yards. The glass surfaces are coated with anti-reflective layers to give the best definition possible. The scope is fog proof, waterproof, and shockproof, and comes with a lifetime repair or replacement warranty.
The Vortex Optics Crossfire II 2-7x 32 Rimfire Riflescope has some of the same bells and whistles as higher-priced models without a big investment. The Vortex ranks as the best scout scope due to its outstanding performance and durability.
All glass surfaces are multi-coated to minimize reflection and glare while protecting the lenses from scratches, dirt, and oil. The Crossfire delivers clear, bright images in low light and poor weather conditions.
Like Nikon, Vortex Optics offers an unconditional, unlimited lifetime warranty on all of their scopes.
Final Thoughts
The best upgrades for a Ruger 10/22 are the ones that you want, can afford, and know how to use. The sources for upgrades are legion. It is recommended that you stick with a source with some knowledge since you may have questions that can't be answered by a clerk at a big box store. Aside from Ruger, some companies that offer good solutions and upgrade components include Butler Creek, Promag, Tandemkross, Black Dog, Brownells, and others. Read reviews on products before buying and ensure that no matter what upgrades you use, do so wisely and safely.