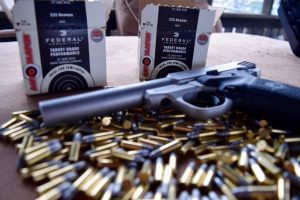 The .22 Long Rifle (.22 LR) is a rimfire cartridge that takes the top spot as the most common and popular cartridge in the world. Target shooters, small game hunters, and competitive shooters have propelled it to the top of standard cartridges for rifles and handguns.
Rimfire cartridges hold the distinct honor of being the oldest self-contained cartridge in existence. Originally made with copper casing, the bullet was the ideal for use in pistols and repeating rifles. Copper casing was used due to the low cost and its malleability was less taxing on the weapon's mechanisms, which were often weakened or broken by larger caliber ammo. The .22 first came on the scene in 1857 when Smith & Wesson developed it for their Model 1, a spur-triggered revolver with a bottom-hinged barrel. The cartridge, loaded with 29-30 grain lead bullet with 4 grains of black powder, quickly caught the attention of shooters worldwide due to ease of use, portability, and economy. S&W had intended the .22 to be used for recreational use and competitive shooting but it soon became the choice of those wanting to carry small pistols for protection.
In 1871, the casing was extended to include an extra grain of black powder, renaming S&W's offering .22 Short. In 1880, the cartridge morphed again when the Extra Long added yet another grain of powder, totaling 6 grains. The reduced accuracy caused shooters to shun the new cartridge which was eventually retooled in 1887 by the J. Stevens Arms & Tool Company. The .22 LR was born. Since that time manufacturers have continued to make improvements on the cartridge, seeking to better its accuracy and velocity. It remains relatively inexpensive to produce and can be used in an infinite number of handguns and rifles.
Best .22 LR Varmint Hunting Ammo:
"Varmints" might be furry and adorable, but they can also be extremely destructive to property and livestock. These may include rabbits, gophers, rats and other rodents, weasels, groundhogs, etc. Because the animals are small, a great deal of power is not necessary. Medium-sized varmints and predators require more stopping power. These include coyotes, raccoons, skunks, opossums, and foxes.
Winchester Ammunition: 36 Grain LHP Xpert HV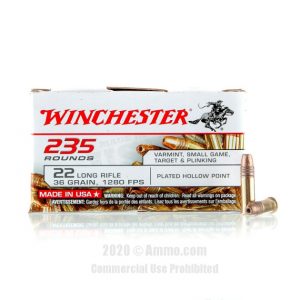 Winchester's Xpert High Velocity .22 ammo is a hollow point bullet that will serve you well when it comes to taking down pesky varmints. The price is certainly right yet you won't sacrifice precision or accuracy.
Ballistic Info:
1220 FPS Muzzle Velocity
36 Grain
LHP Bullet
Brass Casing
Rimfire Primer
Remington Ammunition: Subsonic 38 Grain JHP
American-made Remington .22 ammo is a versatile round and will serve you well as part of your varmint hunting arsenal. The brass casing has non-corrosive characteristics which allows you to spend time stalking your pesky prey without fear of damaging the ammo or your weapon. The JHP offers reliable expansion, accuracy and flat trajectory.
Ballistic Info:
1050 FPS Muzzle Velocity
38 Grain
LHP Bullet
Brass Casing
Rimfire Primer
93 ft lbs Muzzle Energy
Federal Ammunition: Champion 36 Grain CPHP
Federal Champion is at the top our list for the best .22 ammo for varmint hunting. This 36 grain ammo is designed for maximum reliability and performance. These bullets are precision-made to provide the utmost quality and accuracy with every shot. Simply put, this is a hard hitting round that will get the job done.
Ballistic Info:
1260 FPS Muzzle Velocity
36 Grain
CPHP Bullet
Brass Casing
Rimfire Primer
127 ft lbs Muzzle Energy
Best .22 LR Range Training Ammo:
The top two things to look for when choosing the best range training ammo is low price and accuracy. Each of these choices offers that plus smooth feeding, eliminating jams and failures. Our top choices include:
Federal Ammunition: American Eagle 40 Grain LRN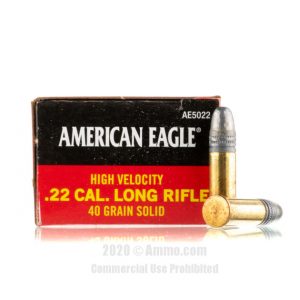 Federal Ammunition has provided quality ammo to its customers for nearly 100 years. Their American Eagle brand has become synonymous with accurate and affordable ammo. The .22 40 grain ammo is perfect for range training and plinking.
Ballistic Info:
1240 FPS Muzzle Velocity
40 Grain
LRN Bullet
Brass Casing
Rimfire Primer
Aguila Ammunition: SuperExtra 22 LR Ammo 40 Grain LRN
Aguila has been on the scene for 50 years, delivering hunting, recreational, and law enforcement ammunition. SuperExtra High Velocity 40 grain ammo packs a punch and it is suggested that it be used with a bolt action rifle. It is reloadable, adding extra value to this already affordable round.
Ballistic Info:
1130 FPS Muzzle Velocity
40 Grain
LRN Bullet
Brass Casing
Rimfire Primer
113 ft lbs Muzzle Energy