Every piece of your firearm is important, but none are as critical as having the best 10/22 receiver. Your Ruger 10/22 receiver is responsible for reloading and firing, so having an unreliable one is not an option.
We considered countless products and sources in this review before compiling this list of the six best 10/22 receivers. Let's jump right into it!
23 Researched Sources
16 Hours Researching
1.9K Reviews Considered
12 Products Evaluated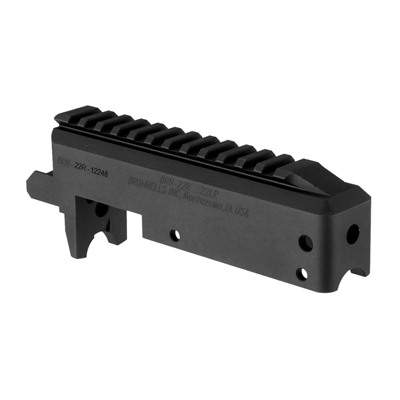 Pros:
Affordable price tag
Works well with most Ruger 10/22s
Picatinny option
Lightweight and easy to transport
Cons:
Accuracy concerns
Might require modifications to fit
Brownells is a household name when it comes to Ruger 10/22 accessories, and this stripped receiver is the perfect choice to go along with your rifle. It's a high-quality part that's both reliable and durable without all the smoke and mirrors that jack up the price.
It's the same as the barreled receiver (which we'll get to), just minus the barrel. It's compatible with standard Ruger 10/22s regardless of whether they have all the factory parts or they're aftermarket.
This receiver is aluminum machined, which makes it lighter and easier to handle. Machining has brought gun part manufacturing into the new century by making parts that are both lightweight and more durable than before.
One of the best features of this receiver is the fact that it comes with a pre-drilled cleaning hole that makes it safer to clean because you're less likely to damage the internals with your rod. On the outside, you've got a black anodized finish to protect the exterior from corrosion and moisture.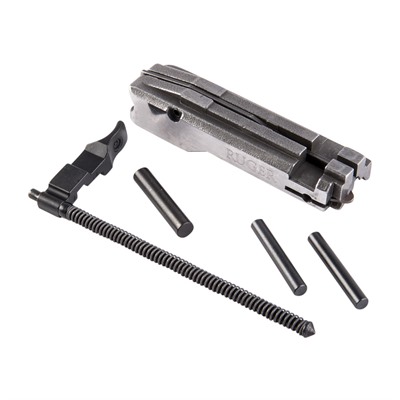 Pros:
Completes a full stripped receiver
Affordable price tag
Fits all standard and factory Rugers including rimfire
Easy to install and use for all skill levels
Cons:
Requires some work
Some parts might require you to remove burrs
If you're simply dealing with a broken part or two, you might not want to replace everything. Instead, you can purchase a repair kit to either fix the broken parts or complete your firearm. You don't get the full receiver, but you get a collection of parts to repair the most common parts on the receiver. Here's a list of the parts you get with your purchase:
Charging handle
Bolt assembly
Receiver cross pins
Springs
Bolt stop in
If you're building your own receiver, you might not always need the trigger and bolt, and most stripped receivers don't come with a lot of these parts, so by purchasing a kit, you have more control over how you customize your gun and how you assemble it.
The parts do not have FFL regulation, so you can order them online because there's no firing mechanism. Overall, this is a great option for someone looking to complete their Ruger or repair some broken components to get it up and running again.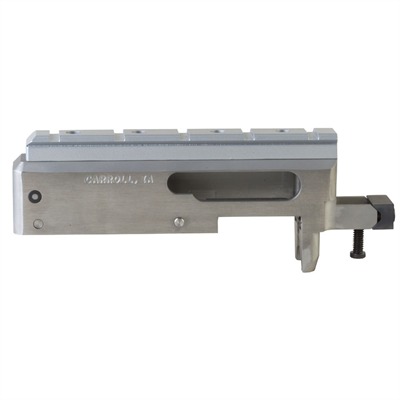 Pros:
Great and durable design
Beautiful stainless steel finish
Simple to drop in
Works with scopes
Cons:
If you're looking for a premium aftermarket 10/22 receiver, you'll want to get your hands on this one from Volquartsen. Once you hold it in your hands, you'll understand what the higher price tag is about. There's no comparison to this receiver, and although the price is a lot higher than what you would expect, it's worth the added cost.
The receiver is made from stainless steel, which means it has improved durability, and it also absorbs recoil better. Even though stainless is a heavier metal, it still only weighs a little over one pound.
This drop-in receiver is finished and ready to install. It's stripped and made in the USA, so you can hold it with pride knowing it was made with American manufacturing. The receiver is a direct replacement for the factory 10/22 receiver, so installation is a breeze, and it's perfectly compatible with any Ruger 10/22 firearms.
Even though it doesn't come with a finish, the stainless steel is resistant to grease, sweat, and dirt, and there's a rail on the top for scopes, red dots, addons and other aftermarket parts.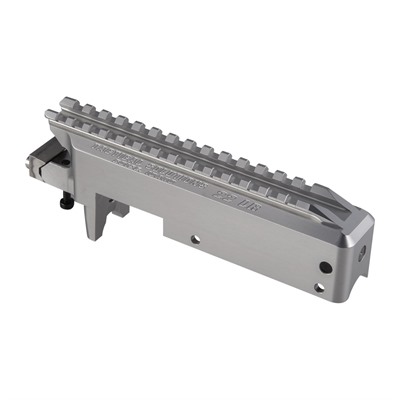 Pros:
Lightweight receiver
Great looking finish
Incredible performance
Cons:
Expensive price tag
FFL license needed
Tactical Solutions LLC is another company we love to represent, and they offer some great aftermarket products. Their 10/22 replacement receiver looks great and offers exceptional performance. They decreased the weight from some of their previous parts, and they increased the accuracy to go along with it.
The one thing that stands out right away is the appearance. So, they're making it with billet aluminum now, which cut down the weight to 16 ounces, which is incredible. Plus, the aggressive appearance with cutouts offers a unique design that no one else can replicate.
If you're interested in a receiver that stands out from the crowd and contains the best features and components from all the other brands, you'll want to give this one a look.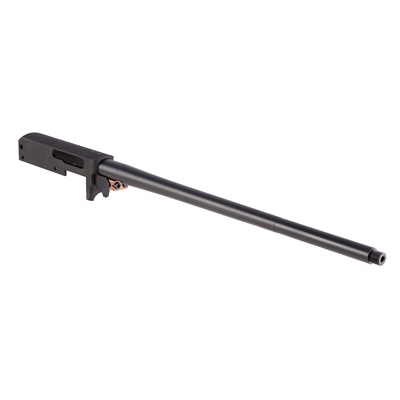 Pros:
Affordable price tag
Picatinny rail
Lightweight
Easy to install
Cons:
Accuracy concerns
Potential for burrs
So, we said we would cover this one as well, and here it is. Brownells offers a low price range receiver, which we reviewed in the beginning. For a little more money, you can throw the barrel on there too; how can you go wrong?
The barrels are either Sporter or Heavy, based on your preference, and the 16 inch barrel length is standard for a .22. You can also choose a 10 inch length if you're looking for something that's compatible with your pistol or short-barreled rifle.
The receiver is 6061 aluminum making it one of the lightest we're reviewing, and the anodized finish in a matte black color looks great.
It fits all standard Ruger 10/22 parts, and you should have no problem installing it unless, of course, yours is one that comes with burrs. Even so, it shouldn't take too much effort to get a little extra metal off there.
They offer a standard design or the one that comes with the Picatinny rail. The one you choose depends on what you need, but keep in mind that the rail will likely jack up the price a little.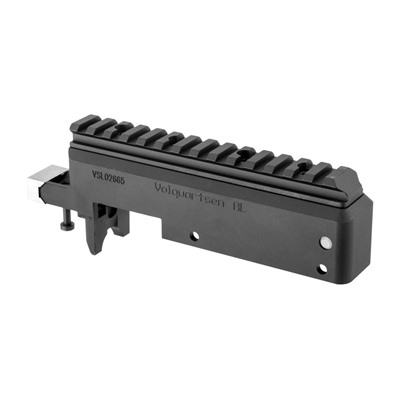 Pros:
Super lightweight
Highly accurate
Drop-in Weaver-style design
Fits standard Ruger 10/22s
Cons:
The last custom 10/22 receiver we're looking at is another from Volquartsen. They hit the nail on the head with this one. It might have a hefty price tag, but the quality is right where you want it to be.
It's an extremely lightweight receiver with a great design that makes it easy to handle, which ultimately improves your accuracy.
The receiver is made using CNC aircraft-grade aluminum that undergoes a rigorous manufacturing process, so you can trust that only the most skilled personnel are present during the manufacturing of this part.
It fits all Ruger bolts and trigger guards as well as any other company parts with the same settings. The hard coat is anodized and epoxy powder, which offers more protection from the elements than any of the other receivers we've looked at so far. It also comes with a hardened steel locking v-block.
For this receiver, it's all about the manufacturing process. It won't jam or fire inaccurately because the cycling is so smooth. Of course, the added attention to detail results in a higher price tag, but you don't need an FFL to purchase this.
What Is the Receiver?
Some of you might not be sure what the receiver even is, but it's simple. It's the part of the gun that keeps all the mechanical components responsible for firing the weapon. It's the essential part that receives the ammo, and no gun would fire without it. Inside the receiver, you have the following (this could vary based on the firearm):
Magazine chamber
Firing chamber
Trigger mechanism
Hammer
Bolt
So, where does the named receiver come from? It refers to the process of receiving the rounds and then firing them from the chamber. The misconception is that the barrel is a receiver, but that's not the case. The barrel is a separate component that attaches to the receiver.
Ruger 10/22s come with an upper and lower receiver because of the larger nature of the gun. It's important that they're separated into two separate parts because if you're working on the lower receiver, you're actually not working on the receiver at all; you're working on the trigger assembly. With some firearms, the trigger assembly is a main component of the receiver.
The receiver is the part controlled by the ATF agency, and they must be registered with a printed certain number. It prevents weapons that are untraceable in crimes. The only time someone would replace a receiver is if it was broken or inoperable. 
Why Upgrade the 10/22 Receiver?
While the receiver isn't one of those "cosmetic" parts of your Ruger 10/22, some people might still swap it out from customization and upgrading. For the most part, the only time you'll change it is if it's getting in the way of firing the weapon properly. If it breaks or starts jamming frequently, you'll know that it's time to replace it.
In some cases, you might just feel that the receiver is ruining your performance and that there's a better one out there. You can then swap it out for one that's lighter, more reliable, more accurate, faster, and with less recoil.
If you're smitten with a specific receiver, but it isn't compatible with the Ruger 10/22, you could always take it to a gunsmith and get it machined.
How to Choose the Best 10/22 Receiver?
If you've decided that you want to upgrade your Ruger 10/22 receiver , you'll want to make sure you're choosing a high-quality part with the right design elements. The last thing you want to do is buy a receiver and find yourself in the same situation you're in right now.
Materials
As with most gun parts, the first thing you'll think about is the material used to make the part. Usually, they're made with metal or synthetics. Most receivers are either stainless steel or aluminum.
The material and manufacturing process used to make the receiver will often determine the price as well. For example, steel is more durable and better at reducing recoil, but it's heavier and more expensive.
Aluminum is lightweight and can reduce the gun's weight, but it's more gentle and requires more babying, or you'll damage it.
The process of making the part is important as well. As technology evolves, we're leaning more towards CNC manufacturing processes vs. old school forging. The parts are more reliable and much more affordable because the process of making them is much cheaper for the manufacturer.
Finish
If you go with a stainless steel receiver, chances are it won't have a finish because the stainless will act like that. If you have an aluminum receiver, it will have an anodized finish to protect the material from dirt, sweat, and moisture.
The jury is out on what type of finish is best, and some gun enthusiasts swear that too much treated finish impacts the accuracy and durability of the firearm because it affects the strength of the metal. I think you'd have to test out so many guns and watch their deterioration over time to make this type of determination.
The most important part about a finish to the average shooter is how it makes the gun look. Go with something you like, and don't worry about how it impacts the rifle's longevity.
Compatibility
If the receiver doesn't fit the gun properly, it will obviously be of no use to you. If you have a lower receiver or a specific barrel, you need to make sure that the receiver is compatible with it before you buy it.
The best way to do this is to look for drop-in receivers because they're compatible with almost all Ruger 10/22 parts, and you have the highest chance of finding one that works if you're not sure how to determine it. A quick search or call to a local gun expert could help you as well.
Reliability
When we're talking about the reliability of a receiver, we're talking about how often it jams, the speed, and how it impacts the accuracy of the person shooting. There aren't any specific step-by-step instructions on how to approach this; it takes a little experience and a little luck.
When it comes to reliability, we recommend going with companies you know and love. That's why we only recommend products from three or four different companies because we trust their products and we know that they're the most reliable options on the market. If you go with a cheap aftermarket receiver, it can not only be aggravating when it doesn't work properly, but it could ruin your whole gun.
FFL Restrictions
Depending on the specific receiver, it may require you to have a Federal Firearms License. As we said, some Ruger receivers are capable of firing on their own, which technically makes that single piece a "firearm." If that's the case, you'll need an FFL.
It's pretty clear when shopping online, which ones require an FFL and which don't, so shop around and look based on what you need. If you have a license, you don't have to worry about it; you can buy whatever you want.
Bonus Features
With every aftermarket Ruger 10/22 part, we always look for small silver linings to see if any bonuses come along with it. Here are some of the perks you might get when purchasing a receiver:
Picatinny rails for mounting
Cleaning rod holes
Attached barrel
We have a recommendation above for all three of these bonus features, but unfortunately, you can't get them all in one place. You'll have to decide which feature is most important to you and run with it.
Price
Your budget is always an important factor because you shouldn't have to spend enough money to get a rifle that fires properly. Make sure you understand ahead of time what these parts cost in comparison to what you're able to afford.
If you're putting a lot of money into your firearm, you might decide that you can pass on the receiver for now and instead go with a trigger, barrel, or stock.
FAQs
Now let's take a look at some of the most commonly asked questions revolving around Ruger 10/22 receiver replacements. We took these from all over the internet, so be sure to give them a look!
What is the difference between the upper and lower receiver?
Both of these components are part of the firearm, and not all guns have an upper and lower receiver. In a Ruger 10/22, the upper receiver refers to the hammer, reloading system, and firing chamber. The lower receiver is usually the trigger mechanism with the magazine. Because the lower receiver contains the trigger, it's typically the part with the serial number and FFL restriction.
What is an 80% receiver?
An 80% receiver is one that is not quite finished. Manufacturers will leave some drilling and milling that needs to be finished, so people purchasing the receiver don't need to have an FFL until they finish it themselves.
What is a stripped receiver?
A stripped receiver is completely finished by the manufacturer, and you might also see it called "drop-in." This means that it's ready to get installed on the gun, and it will work right away. These cost more and require an FFL, but there's nothing left to do on your part.
Are all 10/22 receivers the same?
Most Ruger firearms will use the same 10/22 receiver from stock, but the upgraded parts are not the same. You can purchase many options to upgrade the appearance, durability, accuracy, and reliability of your firearm. For example, you might want to upgrade the appearance to a dark anodized receiver that's different from the stock option.
What is the best material for a Ruger 10/22 receiver?
While there's no right or wrong answer, we are each entitled to our own opinion. Aluminum is lighter, but doesn't possess the same level of durability as stainless steel. Stainless steel is heavier and more durable, but often doesn't come with a finish on it, and some people believe that makes it more susceptible to damage. Stainless is also compatible with bull barrels.
Do you need a left-handed 10/22 receiver?
No, you don't need one but matching your handedness is always an advantage. If you're using a bolt gun, you certainly want a left-handed version, but semi-automatic rifles can fire from both sides with little trouble. If you're a lefty, we would recommend going with a left-handed receiver, and most manufacturers offer variations for both hands.
Final Thoughts
Choosing the best 10/22 receiver is simple when you factor in all these considerations. It's not a complicated part of your firearm, but it does play a major role in your ability to fire the gun. With a poor quality receiver, you're sacrificing accuracy, reliability, and performance.
If you've been thinking of upgrading your 10/22 receiver, now's your chance. Take a further look at the options we recommended above, make sure you're considering the buying factors, and grab one today.