The best Ruger 10/22 trigger helps improve accuracy, comfort, and reset speed on an already incredible rifle. Whether you decide to go with a 10/22 drop-in trigger or something more complicated, that's up to you.
We've spent hours researching triggers, assemblies, and kits to put together this comprehensive buying guide revolving around everything you could want to know about your Ruger 10/22 trigger.
16 Researched Sources
4.4K Reviews Considered
9 Hours Researching
16 Products Evaluated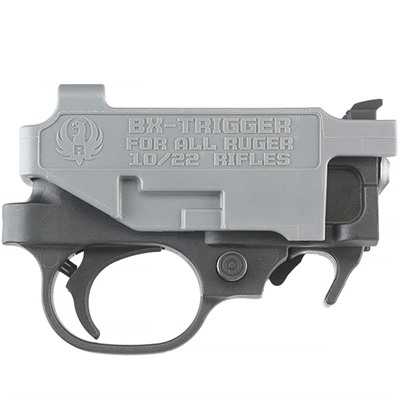 Pros:
Easy to pull trigger
Lightweight
Simple to install
Limited overtravel and rear stop
Cons:
Low durability polymer housing
Since this trigger is made by Ruger, it has a strong reputation and great buyer feedback. It's one of the only triggers on the market highly recommended by the rifle manufacturer itself. Many users experience simple installation, easy pulling, and great compatibility after purchasing this trigger.
It's one of the most premier triggers to go along with the Ruger 10/22 because it has next to no overtravel, and it's constructed using lightweight polymer. The module has a 2.5-pound breaking point and fits both the rifle and the charger pistol, which both have the same action.
Best of all, it has almost half the trigger pull compared to the stock trigger. It's crisper and helps the shooter improve their accuracy and offer quick follow up shots. These factors alone make the aftermarket trigger an excellent replacement for the factory trigger. Not to mention the fact that it's affordable too.
If you use your Ruger 10/22 for anything besides plinking, you'll want to give this trigger a consideration. The drop-in installation makes the process simple for people of all levels of experience, and the lightweight nature of the trigger reduces fatigue and helps produce quicker shots.
For those reasons, we recommend the Ruger BX-Trigger if you're hunting small game and it's a great option for competitive shooters as well.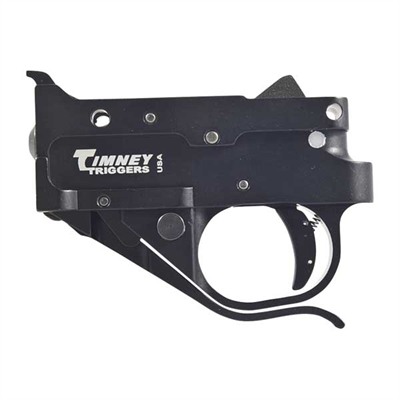 Pros:
Extremely light pull
EDM cut and heat-treated steel
Comes with extended one-finger release mag
Cons:
Higher price range
Not adjustable
The thing that stands out right away about this match grade trigger mod is the incredible performance compared to the stock trigger. It features an auto bolt release and magazine release, which are great but somewhat expected for a trigger in this price range.
Timney always produces great firearm products, and that extends to their line of triggers as well. What they've done with this product is nothing short of exceptional, and we're telling you why.
The lightweight pull of 2 lbs makes handling and accuracy a breeze. The extended magazine makes it even easier, and the bolt catch is a user-friendly feature that beginners and experts will appreciate.
The Timney drop-in also features trigger breaks that perform perfectly on this hand-built Ruger trigger. Every piece of the trigger was built and calibrated by hand to meet stringent specifications. The main upside to this trigger versus the Ruger company option is the material and manufacturing process.
The hammer, trigger, and sear are EDM cut using steel and CNC milling machines. The body is 6061-T6 billet aluminum. It's set to two pounds, and it breaks easily without any slack.
If you're a competition shooter, you'll want to use this trigger. It has such a lightweight pull and crisp break that you'll be able to quickly fire and improve your accuracy as you do. The extended magazine release also makes the process much more fluent.
It's a great option for tactical or range shooting, and it's versatile enough to work in small game hunting applications as well.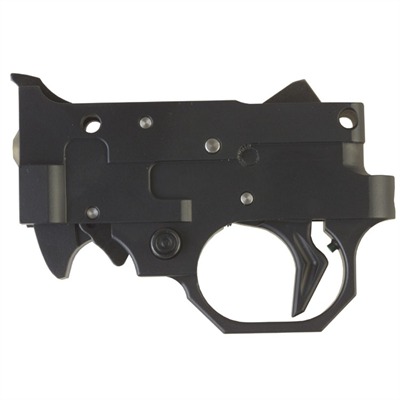 Pros:
CNC machines with EDM cut parts
Auto bolt release
Extended mag release
Oversized sear and hammer
Overtravel adjustment for a lighter pull
Cons:
The performance of this premium trigger is what draws people in. It has a beautifully crisp break with absolutely no creep right out of the box. You have the freedom to make additional adjustments if needed, and the wide trigger shoe works best for people with bigger fingers. It also comes with an auto bolt release that is a nice upgrade for those who've never used one.
The interesting thing about Volquartsen as a company is they produce more firearm upgrades for the Ruger than the Ruger factory. They put together high-end accessories, and this trigger does not fall short of those expectations.
The 2000 model comes with all the necessary components of a wobble-free housing to ensure that you have a lighter pull and complete management of your overtravel. It has an average pull weight of around 2.5 pounds, which just falls short of the Timney trigger, but still impressive nonetheless.
While this trigger is a bit more expensive than the two previous options, the unit is machined using stainless steel and precise cutting with CNC machined housings and all internal parts cut within .0002" tolerances. The newly designed plunger helps create a crisp and smooth trigger operation.
Best of all, you get a bolt and magazine release with oversized pins to make the process much more fluent for a perfect trigger job. The tight tolerance and adjustable travel make this the perfect trigger for all of you in competitions. If you're looking to improve your accuracy and have consistency with your shot, this is the best Ruger 10/22 trigger.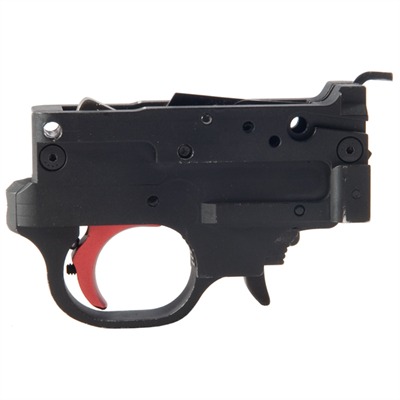 Pros:
Drop-in installation
Adjustable pull
Adjustable travel
Removable side plate
Cons:
Not all versions work with standard mags
This Ruger 10/22 trigger module is full aluminum with an easy drop-in design, so you don't have to fiddle around with small parts. The single-stage trigger offers a nice pull weight of around 2.25 pounds, and you can adjust it using a set screw all the way down to 1.75.
It offers a wide aluminum Garand style shoe and internal trigger guard. The trigger comes with an extended magazine release, making changing easy. The safety and mag release are close together so you can operate the rifle quickly for competition and in self-defense.
Best of all, the pretravel and overtravel triggers are adjustable, and you have a removable side plate on the assembly, which makes it easy to clean and maintain. This is an all-in-one solution that is priced affordably and an excellent option for those looking for a simple upgrade to their Ruger 10/22 rifle.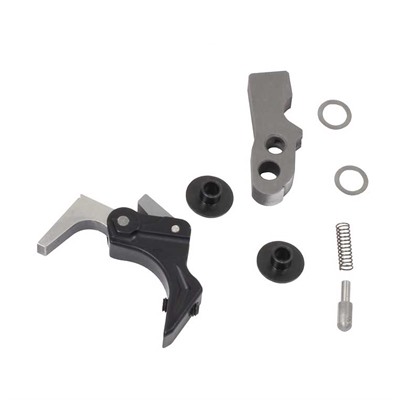 Pros:
Comes in both .22LR and .22mag
Reduces pull to 2.25 pounds
Prevents damage to the bolt
Cons:
This trigger action kit comes with precision machined materials guaranteed to improve your performance and accuracy. The kit is simple to install, and it offers a lot of customizable features so the operator can assemble the trigger to match their preferences. That said, we did hear that the assembly requires a bit of fitting, and the instructions that come with it could be more useful.
The good news is that the overtravel is highly adjustable with precise tolerances, and you get a high reduction in pull weight down to 2.25 pounds. The kit comes with normal and magnum caliber variations making it an ideal kit for competition shooting.
This high-end assembly is a bit pricey, which puts it out or range for the occasional shooter. We're expecting more professional competition shooters to be interested in this trigger assembly.
Steps to Install a Ruger 10/22 Trigger
Installing a new trigger inside your firearm is never an easy task; in fact, it's one of the most difficult. You need to make sure you understand what you're doing and have done plenty of research before taking on this task. Installing a trigger in the Ruger 10/22 is equally as difficult as any other weapon, but we're here to walk you through some of the steps to make it easier.
Ruger 10/22 Trigger Disassembly
The first step is disassembling your current trigger group so you can begin to prepare the new one. Here's how you'll do it:
1. Take a small punch and remove the magazine release pin
2. Remove the bolt lock
3. Press the trigger and push the hammer spring and pin
4. Remove the whole trigger.
10/22 Trigger Assembly
If you purchased any of the triggers outlined in this guide, they're all drop-in, which makes the installation process super simple. All you need to do is insert the new trigger and follow the steps backward.
Keep in mind that this process only applies to replacement triggers and not assemblies. If you're trying to replace the whole assembly, you'll likely have to strip the whole rifle down, which is a much more involved process for another guide!
Guide to Choosing a Ruger 10/22 Trigger
Here are some of the most important factors to keep in mind as you determine which Ruger 10/22 trigger is right for you.
Pull Weight
The pull weight is immediately the most important factor anyone should look into when determining which trigger is right for them. It's the thing you'll notice first and last each time you fire your gun. The pull weight is the amount of force required to pull the trigger back and fire the rifle.
The main reason many people upgrade their rimfire in the first place is to reduce the pull weight and make the rifle more comfortable to shoot. The standard pull weight on a Ruger 10/22 is pretty high at around six pounds, and if you checked out the reviews above, you'd notice that the pull weight of most of the upgraded triggers is between 2-2.5 pounds.
Also, keep in mind that it's important to find a nice middle ground. There's something called a "hair trigger," which is not an ideal choice either. These will send a lot of rounds quickly, but there's also the factor of danger and accidental misfires that you want to keep in mind.
It's all about balance, and depending on what you use your rifle for, you'll be able to determine what the ideal pull weight is for you.
Reset
You want a shorter reset, and that's another reason why you're looking into trigger upgrades. The reset is the amount of time it takes the trigger to reset before you can fire it again. When you're dealing with a fully automatic rifle, there is no reset because the ammo is constantly exiting the gun when you're holding down the trigger.
When you have a semi-automatic rifle, you're firing one round each time you pull the trigger. This means that you can't fire another round until you reset the trigger.
A shorter reset means the trigger won't have to reach its original position before you can fire it again. A bad reset will require the trigger to return to the full position before you can depress it again. As you can likely tell, a shorter reset will result in faster shooting and ultimately more benefit to competition shooters and small game hunters.
Fluency
Some people refer to this as smoothness, but we like to call it how "fluent" a trigger operates. You can have everything listed above and still not have an enjoyable Ruger to operate because the trigger is gritting and not smooth enough to pull back properly. What you're looking for here is quality in manufacturing, and you'll get that from choosing any of the products recommended above.
All of the options we looked at here are from the most reputable and well-respected companies, so you know you're getting the latest technology and best craftsmanship. We've said this a few times before, but we'll say it again, when all else fails, go with the Ruger company manufactured products because you know they'll stand by them.
Limited Movement
You want to make sure that your trigger installs properly and doesn't have any wiggling or movement from side the side. The best Ruger 10/22 trigger parts will install properly without any wiggling, and they'll feel comfortable and stable once installed.
Cost
The amount of money you have to spend on your upgrade is obviously an important buying factor as well. Some of these triggers can cost as much as the rifle itself while some of them are as low as $200, why is that? Quality, quality, quality.
While we don't expect you to pay as much as you did for your rifle for a trigger, we do have to cut through the red tape and tell you that you need to pay the right amount to get a quality product.
If you decide you're going to save a few bucks and get a cheap trigger, you'll end up with cheap shots, and everyone knows what a cheap shot looks like. Accuracy and comfort are important when dealing with triggers, and to get an improved feel, you need to pay a bit of a higher price. Don't cut corners here.
Ruger 10/22 Trigger Parts
Instead of repairing the whole trigger, you can go in and pick and choose which parts you'd like to replace. If saving a little money and still getting the same result sounds good to you, check these out!
Trigger Kits – You can buy a kit containing all the parts needed to replace your Ruger 10/22 trigger. You'll get a much better trigger for a fraction of the cost of most drop-ins.
Trigger – When we say "replacing a trigger," we're actually replacing a lot more than the trigger you pull. In this case, you can literally replace just that. You can buy a straight trigger with a set screw.
Hammer/Sear – If you're looking to improve your trigger and you're on a strict budget, you can replace a few springs and get a new hammer. It will make your pull a lot smoother, and installation isn't too much of a challenge.
Why Upgrade Your Trigger?
Why even bother with the trigger? Why not leave it the way it was, it's fine right? While we do agree that the 10/22 is an exceptional rifle, you'll want to improve your shooting performance enjoyment over time, it's only natural. It's the same reason people upgrade their homes and vehicles. Chances are, they were perfectly happy when they bought them, but over time, things start to pop up, and we crave more.
A standard trigger doesn't offer a desirable pull weight, and that's the number one reason people turn to trigger upgrades. A lighter pull weight makes the firearm more efficient in sport shooting and easier to fire in the event of a self-defense situation.
Upgrades are getting easier and easier to make as well with new drop-ins. You don't need a gunsmithing expert to help you, and anyone can upgrade their Ruger 10/22 right in their home.
Final Thoughts
One of our favorite things about the 10/22 is how you can customize just about anything on it. If there's one upgrade, we really stand by, it's the trigger. We think that upgrading the trigger immediately results in improved performance and an overall higher level of enjoyment when firing it or any carbine. If you're the occasional range shooter or you're saving your rifle for a rainy day, you might not want to worry about upgrading the trigger.
But, if you're trying to get tighter shot groupings or you're thinking about trying your hand at professional shooting, you'll certainly want to take a deeper look at all the products recommended above.