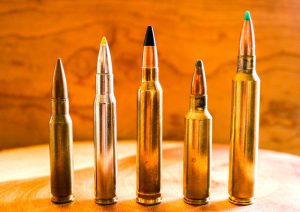 Not everyone has the luxury of getting up close and personal when stalking deer in the wild. If you suspect that you're going to need a long range rifle to do the job, then the best bet is to go with a .300 Win Mag rifle. Ruger has several to offer including the Ruger American Rifle, which is rugged, reliable and 100% American made. Another popular choice is the Guide Gun, a hard hitting weapon that is compact for east travel up those long hills; and several models of the classic bolt-action Hawkeye. Ruger offers classic style with award winning ingenuity to afford hunters every advantage in the wild. So what is the .300 Win Mag and where did it come from?
The Introduction of the .300 Win Mag
In 1963 the .300 Winchester Magnum was introduced in 1963 by the Winchester Repeating Arms Company for use in its Model 70 rifle. The new production wasn't a revolutionary cartridge as Winchester had introduced its .338 in 1958 and the conversion was expected. The shoulder of the .338 was moved forward by 4.0 mm (0.156 in) and lengthened by 3.0 mm (0.120 in). This shortened the neck, so it was less than the cartridge's diameter. The cartridge is widely available and popular with big game hunters due to its capabilities and versatility. There are similar cartridges on the market, but they are not as available and tend to be more expensive.
When it comes to hunting larger game including deer, big horn sheep, elk, and moose, the long-range performance of the .300 can't be beat. While some shooters will take chances with very long-range shots, anything over 450 yards becomes risky, increasing the probability of wind drift and inaccuracy unless the shooter uses the appropriate optics and a tripod. A bad shot can cause you to miss the target or worse, wound the animal and leave it to die in the woods.
In addition to deer hunting, .300 ammo is widely used by law enforcement and military for marksmanship.
There is a downside to the .300 which is heavy recoil which is about 30% greater than the .30-06 Springfield. It can be manageable unless one is highly sensitive to recoil. Many modern rifles offer features to lessen recoil such as energy absorbing stocks, compensators, and butt-pads. Shooters should also use ear protection on the range or in the field as the sound from such a large round can cause hearing loss.
Our Choices For Best .300 Win Mag Ammo For Deer Hunting
Hunting big game, like deer, elk, moose, mule deer, and bighorn sheep, calls for big power. Each of these cartridges are designed for just that as well as long-range accuracy, precision and reliability. Each is manufactured with Boxer primer so it is easily reloaded.
Winchester Ammunition: Ballistic Silvertip 150 Grain Polymer-Tipped
Winchester's ballistic silvertip 150 grain, .300 ammo comes with a polymer-tipped projectile. This is designed to stop deformation and allow the bullet to fragment and quickly expand upon impact. It makes one serious impact, important for when you want to take down big game. Also, each round contains a black oxide coating called Lubalox. This coating reduces wind drift and fouling, which can shorten the life of the barrel.
Ballistic Info:
3300 FPS Muzzle Velocity
150 Grain
Polymer Tipped Bullet
Nickel-Plated Brass Casing
Boxer Primer
3628 ft lbs Muzzle Energy
Remington Ammunition: Core-Lokt 150 Grain PSP
In 1939, Remington introduced Core-Lokt®. The cartridge instantly became the one that big game hunters prefer when setting out to find their prey. This bullet offers reliable weight retention and consistency in addition to a massive 2X expansion for maximum impact. It has a tapered copper jacket which is bonded to a solid lead core to prevent separation.
Ballistic Info:
2910 FPS Muzzle Velocity
150 Grain
SP or PSP Bullet Core-Lokt
Copper jacket
Boxer Primer
2820 ft lbs Muzzle Energy
Hornady Ammunition: 180 Grain GMX Superformance
Hornady's GMX Superformance ammunition is new to the marketplace and offers the best in modern technology. It's loaded with Hornady's proprietary propellants touted to increase the velocity ratings up to 200 FPS compared to other major brands. The cartridge is known for hitting hard and creating deep penetration as well as expansion up to 1.5 times the bullet's original diameter.
Ballistic Info:
3070 FPS Muzzle Velocity
180 Grain
Lead-free
Polymer-tipped
Brass casing
Boxer priming
3776 ft lbs Muzzle Energy