Choosing the best scope rings for Ruger 10/22 rifles is important because an accurate shot doesn't end at your scope. That's the biggest misconception. Scope rings and mounts help keep your scope aligned and if it's not aligned, it doesn't matter how expensive your scope was.
In this guide, we're looking at the top choices for scope rings and mounts as well as some of the methodology behind our choices.
Best Scope Rings for Ruger 10/22: Full Comparison
Best Scope Rings for Ruger 10/22 with Picatinny Rail: Burris Signature Rings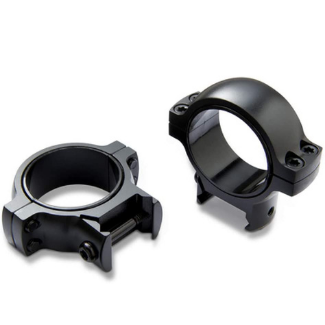 Pros:
Durable construction
Easy to install
Great windage and elevation adjustments
Steady and well-aligned
Cons:
Might not fit larger objective scopes
Adjustments have a learning curve
Most people using these scope rings consider them reliable and easy to install. You can install your one-inch scope within minutes, there's very little if any wiggle, and the zero settings remain even after 500 rounds.
Scope rings are an important tool to rely on for hunting and even target shooting today. For generations, we used them on our hunting rifles, but today they're much more durable and easier to install. One of the main things we look for is their ability to absorb shock and recoil, and over time, manufacturers have continued to improve upon them.
These rings range in height from 0.18" to 0.42". Windage adjustment is possible on the rear wing and there's a double-dovetail design that limits offset from recoil after firing a large number of rounds.
We find that hunters and target shooters will get use out of these. Hunters are the primary customer though because the rings help improve reliability, accuracy, and stability.
The one thing we have issues with is the windage and elevation adjustments. You can make plenty of adjustments to the mount and rings but we would expect it to be a little better out of the box. It does require a few tools and a bit of knowledge to know how to get it aligned, which isn't ideal for a lot of people.
The bottom line is that Burris Signature Rings are very popular among Ruger owners and if you're into scope rings, these are one of the top choices you'll want to have.
Best Scope Rings for Ruger 10/22 Takedown Rifle: Weaver Quad-Lock Rings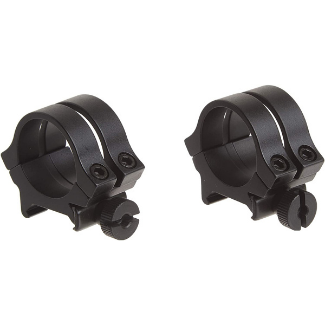 Pros:
Great durability
Tight and secure
Fits most scopes without much hardware
Easy to adjust
Cons:
Might not fit all 10/22s
Won't work with larger objective scopes
Most people we've talked to are very happy with these scope rings. They find them to be sturdy, durable, and secure so everything stays in place. Even after hundreds of rounds, most owners report that the zero settings remain so everything is secure and requires little adjustment.
The main thing that stands out about these to us is their durability and quality. We look for products that are made to last by manufacturers that have earned respect. After looking at these scope rings and researching what people had to say about them, they've earned the respect.
They're made using high-quality aluminum so even if you're throwing them on the ground a lot, they won't scuff. Besides durability, they're so easy to secure to your scope and they make sure everything remains firmly in place even after recoil.
Weaver is a brand that we all know and they have a strong reputation for putting out quality products and their mounts and rings follow suit. These two clamp on the base providing added stability and pressure which we think is important for the Ruger 10/22 Takedown rifle. You can use it for the carbine and rimfire as well though.
They're lightweight, durable, secure, and easy to install.
Anyone with a Ruger 10/22 can use these because they have a more general-purpose than some of the other options. Some are geared for target shooting while others are for hunters. You can pretty much use them for anything because they offer exceptional reliability.
The main problem we have is the adjustments for fitting larger objective scopes. Granted, this seems to be a problem with many scope rings across the board, we would just like to see Weaver be the ones to address the problem. If you need a scope mount to work with your Weaver rail, these are the toughest out there, but if you're using scopes with 40mm objectives or more, these likely won't work for you.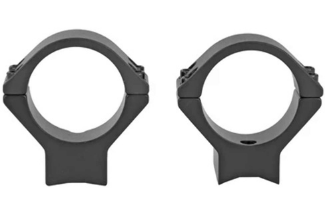 Pros:
Simple to mount without Picatinny rail
Maximum scope compatibility
Comes in multiple mount heights
Hard coat anodized finish
Cons:
Here we have lightweight scope rings that are great to use in place of a Picatinny rail. These mount directly to the receiver so it's a minimal mounting solution with less metal, less bulk, and ultimately, less weight.
Weight is an important factor that determines comfort and accuracy when you're firing so lighter is almost always better. If you feel more comfortable and you have a lighter rifle overall, chances are you'll have improved accuracy.
The bad part of the design is that you can adjust the space between the rings. You're restricted to the area where the holes are tapped. The good news is that they come with one inch and 30mm so they'll fit a much wider range of scopes and iron sights compared to some of the other scope rings we've looked at so far.
It will work with rear sights, red dot sights, rimfire scopes, 1 inch scopes, low rings, and low profile scopes as well. Whichever scope provides the most eye relief and improved accuracy; you can use here.
Not to mention the fact that these come in multiple mount heights so you can match the scope with your line of sight which continues to improve upon the comfort factor with these. It's super lightweight, doesn't require the Picatinny rail, and you have more versatility as for how you install it to meet your visibility needs.
The main issue we have is that you have to secure everything with TORX screws. TORX wrenches aren't as common and most scope rings use a standard allen screw so it's just a pet-peeve. If it's not broke, don't fix it. Overall, this is a minor issue compared to what can be, so if you can get past it; these are great scope rings.
Best Ruger 10/22 See Through Scope Rings: Leupold PRW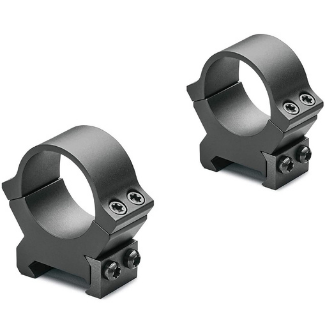 Pros:
Fits most 10/22s
Easy to install
Durable design
Fits larger scopes
Cons:
Screws may come loose
Alignment issues
The primary thing we see from buyers of these scope rings is that they're pleased with the installation. They're able to install them quickly, fit their ideal scope choices, and use them for hunting. Most people even have scopes with 40mm or larger objectives and they had no problem mounting with these which is a major plus in our eyes.
These are also one of the strongest scope rings on the market. They're built for hunting and target shooting so if you're looking for something that does a nice job of keeping everything stable, you'll want to give these a look.
Like Weaver-style, Leupold is also recognized as an industry leader so we respect most of the products that come from their line. These rings are made using steel so they provide a lot more durability, they absorb more recoil, and they're easy to mount and adjust once you've got them installed.
As you could imagine, steel comes with a bit more weight than aluminum so you'll want to keep that in mind if you're trying to rig your rifle for reduced weight and improved handling. Another problem we have comes from the lack of alignment for the scope. You can't adjust it on the fly which is a downside.
We think hunters and target shooters will benefit from these rings. If you need to keep your scope secure for long periods through thousands of rounds, these scope rings will help ensure that your settings stay in tack so you don't get thrown off.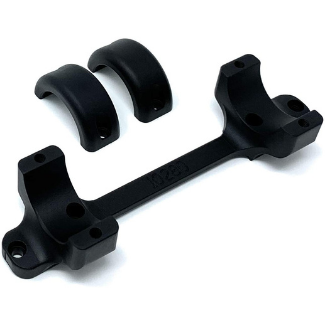 Pros:
Machined with 6061-T6 aluminum
Comes with three mount heights
Three different finishes
Simple design
Cons:
If you're looking for something a little simpler and you don't want to mount to a Picatinny rail, this is the way to go. This riflescope mount is a scope ring and mount combo so you can rig it directly to your rifle. The best thing about this one is it features the 6061-T6 aluminum scope base with the rings. The rings are your traditional scope rings, but the unique base allows you to bypass the Picatinny rail.
The rings are one-inch diameter rings so they'll fit a wide range of scopes and they come with three different mounting heights so you can mount your scope wherever you want to match the line of sight you desire.
Some people also like the fact that it comes in three different colors like matte black and silver which offers a bit more customization based on how you prefer to upgrade your Ruger. The 10/22 has so many upgradable options that it can begin to look like a mish-mashed mess if you're not sticking with one theme. This mount allows you to do that.
The Importance of a Good Scope Mount and Rings
Having a good scope mount and rings makes a huge difference when it comes to accuracy and stability. The mount fixes on your receiver and helps you align the scope properly to the barrel. Basically, it makes sure that everything is aligned straight and doesn't fall out of alignment as you're firing off rounds.
While a good scope provides you with the added vision so you can zero in on the target, if it's not properly aligned with the barrel, it won't matter if the scope is zeroed in or not. Your mount and scope rings will guarantee that you're in alignment so you can trust what you're seeing through the scope.
Let's talk in a little more detail about the importance of scope rings.
Alignment
When you lock your scope you'll check how it's aligned to the barrel. This is usually performed with a level or slope indicator. Once you align it you'll screw everything in to ensure that nothing moves around.
As you're firing off rounds, adjusting, moving around, dropping the rifle, etc, it can come out of alignment. This is a problem if you need to adjust on the fly or you don't think about it and you try to hit a target. The scope mount and rings will ensure that everything stays in alignment no matter what you do.
The best scope rings for Ruger 10/22s will limit movement as much as possible so you remain at zero all the time.
Look For This
The biggest mistake gun owners make when shopping for rings and mounts is not factoring in weight. You need to consider how you're impacting the weight of the rifle because adding too much weight will make the rifle more difficult to handle. Think about how much weight the scope adds by itself. Now you're adding a heavy mount and rings on top of it.
This can add up which will decrease your accuracy because you won't be able to keep the rifle as steady. Instead, look for a strong and durable mount and ring that doesn't add too much weight. Aluminum is usually the best choice here.
Another factor to consider is how tight the mount is to the rifle. These will loosen up over time and after firing a number of rounds. You want to make sure that the screws are simply coming loose and it's not a manufacturer defect. You might just need a little thread lock like Loctite to keep it intact. 
Benefits of Upgrading Ruger Rifle Scope Rings
If you're considering swapping out your stock mount and rings, there are a few reasons why you should. As we've stated, there are a ton of upgrades and customizations that you can make to your Ruger 10/22 and this is merely one of them. Here are some of the positives you'll experience with your upgrade.
Better Accuracy
It's clear that accuracy results from a better view and improved stability. You've got a scope, a stable mount, and durable rings which will always result in improved accuracy. If you're looking for a somewhat affordable way to increase your accuracy for target shooting or hunting, this is the way to go.
Low Cost
You don't have to spend a ton of money to increase your accuracy and stability. There are scopes and mounts out there that cost more than your car, but are they really necessary? Of course not. You shouldn't have to take a second mortgage on the house to afford upgrades for your rifle.
One of the best things about scope rings is that they can make a big difference at an affordable price without having to require a lot of customization, installation, and expertise. If you know how to mount a rail, you can easily learn how to mount these and they come at a low cost as well.
Increased Durability
The biggest thing we want to stress is that you don't settle for something super cheap. It's tempting of course to go with the cheapest set of rings you find because they don't seem like a major upgrade and it's because they're not.
But, you don't want to buy a piece of crap set because it will impact your accuracy and stability. If you're trying to short-change yourself you should stay with the stock and don't worry about the upgrade just yet.
The best scope rings for the Ruger 10/22 will improve your durability, increase your accuracy, and help you get a better shot over the long-term. Keep in mind that low-quality scope rings will likely spring loose a lot and require many adjustments that will become bothersome after a while.
More Customization
Choosing scope rings and a mount will allow you to customize based on what type of shooting you typically do. If you switch ranges a lot, fire in low-light, or require a one-size-fits-all, you'll be able to get that. That's the biggest advantage of the Ruger 10/22, in general, is that you can customize it to meet your preferences.
Final Thoughts
When you're looking to improve your accuracy, you look towards a great scope. That makes sense. But keep in mind that other components impact accuracy as well and without these, your scope won't help you as much. Having the best scope rings for Ruger 10/22 will ensure everything stays aligned so you're always zeroed in without question.
Ruger 10/22 Scope Rings FAQs
Here are some of the most frequently asked questions revolving around Ruger 10/22 scope rings.
Do scope rings really matter?
We know it seems like such a small purchase that couldn't possibly make that much of a difference but trust us, it does. Just remember that your scope only works when it's aligned. If you don't have the proper mount and rings you'll have a much harder time keeping the scope aligned which means you're not truly aiming where you want.
What should I look for in a scope ring?
There are a few important things to look for in the best scope ring. First, it needs to be easy to install and adjust. If anything does fall out of alignment, you should be able to quickly access it and make adjustments. It should also be lightweight and that's why we recommend aluminum rings. Lastly, it needs to be sturdy and durable because it will get banged around.