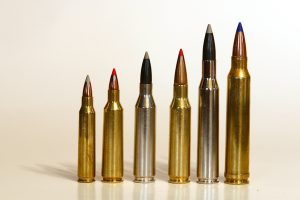 If you're looking for a rifle that will do the job during hunting season but not create heavy recoil, then your best choice is a .243 Win Mag. The lighter weight is good for newbies and those that are recoil sensitive without sacrificing accuracy. In addition, many rifles in this vein are more affordable than their heavyweight counterparts.
When it comes to Ruger, there are several models that fit the bill. They make seven different models of the American Rifle, a popular choice that often makes the top of the list for deer hunting rifles. They offer standard and compact sizes of their popular Hawkeye model as well as the No. 1 Single Shot. You can go as basic or as fancy as you want, knowing that no matter what you choose, it will get the job done.
Birth of the .243 Win Mag
The .243 Winchester, also referred to as 6×52mm, is a popular deer hunting rifle cartridge. The round was initially designed for varmint hunting and can be used for coyotes, whitetail deer, pronghorns, mule deer, and wild boar. When deer hunting, it is recommended to use a round with a minimum of 90 grains to ensure stopping power.
Winchester introduced the .243 cartridge in 1955 as ammo for its Model 70 bolt-action and Model 88 lever-action rifles. The new round was considered a ground-breaking development because it offered the best of both worlds: a lightweight bullet (70 to 85 grain) for long-range shots for varmint hunters and a heavier weight (90 to 105 grain) for deer hunting and similar sized game.
Many hunters credit the .243 Winchester as being their first centerfire rifle, oftentimes taking down their first deer. The case is a necked-down .308 that reserves room for the powder to push the light bullet to peak performance. Hunters and target shooters choose .243 ammo due to its light recoil and high level of accuracy. The cartridge performs well out to 200 yards with some claiming successful fires out to 400 yards.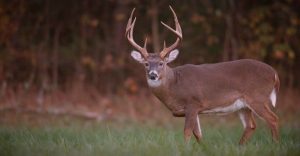 Top Picks For .243 Ammo
Most manufacturers have developed their own version of this popular round, most of which can be purchased in bulk so you never run out when you're out in the field or on the range. Here are our picks for the best .243 hunting ammo:
Winchester Ammunition: Supreme Ballistic Silvertip 55 Grain Polymer-Tipped
Winchester's ballistic silvertip .243 ammo comes with a polymer-tipped projectile designed to prevent deformation and allow for fragmentation and quick expansion upon impact. This is especially important when taking down medium sized varmints and predators.
Ballistic Info:
3910 FPS Muzzle Velocity
55 Grain
Polymer Tipped Bullet
Nickel-Plated Brass Casing
Boxer Primer
1867 ft lbs Muzzle Energy
Federal Ammunition: Power-Shok Ammo 80 Grain SP
Less expensive than some other popular rounds, Federal's .243 makes great hunting ammo. Federal Power-Shok is hard-hitting round designed for all around exceptional performance and accuracy in the field. Short or long range, this cartridge can handle any medium-sized game including deer and pronghorns. This high-quality bullet features brass casing and Boxer priming and is reloadable for further savings.
Ballistic Info:
3330 FPS Muzzle Velocity
80 Grain
SP Bullet
Brass Casing
Boxer Primer
1970 ft lbs Muzzle Energy
Hornady Ammunition: Varmint Express Ammo 75 Grain V-MAX
While it may have been originally designed for varmint hunting, Hornady offers this round in 4 different weights. The 75 grain is a lighter weight round, but still does the job out in the field. The .243 ammo works well at short or long range. The cartridge is equipped with a solid polymer-tipped designed to deliver rapid expansion as well as a thin jacket that fragments upon impact.
Ballistic Info:
3240 FPS Muzzle Velocity
55 Grain
V-MAX Bullet
Brass Casing
Boxer Primer
1282 ft lbs Muzzle Energy
Hornady Ammunition: American Whitetail 100 Grain SP
Hornady's Whitetail cartridges are an excellent choice for taking down deer and other medium-size game. At 100 grains, it's the heaviest on our list, traveling at a velocity of 2960 FPS . The soft point Interlock bullet is designed to bond the core and jacket together to deliver excellent expansion without deformation. This round is also reloadable.
Ballistic Info:
2960 FPS Muzzle Velocity
100 Grain
SP Bullet
Brass Casing
Boxer Primer
1945 ft lbs Muzzle Energy
Federal Ammunition: Fusion 95 Grain Fusion
Weighing in at 95 grains, Federal Fusion cartridges are used mainly for hunting medium-sized game such as deer. This .243 Winchester ammunition is made with a bonded bullet, a feature in which the core and the jacket are inseparable so that the impact is greater and more effective.
Ballistic Info:
2980 FPS Muzzle Velocity
95 Grain
Fusion Bullet
Brass Casing
Boxer Primer
1873 ft lbs Muzzle Energy
Hornady Ammunition: 95 Grain SST
Hornady makes the list once again with its Super Shock Tip (SST) bullets. This round is specifically designed for large game hunting. Accurate and heavy with excellent trajectory, the .243 bullet also features the patented Interlock design, created to bond the core and jacket together to deliver expansion without deforming the bullet.
Ballistic Info:
3185 FPS Muzzle Velocity
95 Grain
SST Bullet
Brass Casing
Boxer Primer
2139 ft lbs Muzzle Energy