Disclaimer: This page contains affiliate links, meaning we receive commissions for any purchases made through the links on this page.
The Ruger 10/22 is one of the most popular rifles for game hunters and sport shooters alike. This is the case because it's beginner-friendly, easy-to-handle, and has a relatively small learning curve. That said, many people still struggle with stability and that impacts their shot. Luckily, there are many Ruger 10/22 bipods available on the market.
Purchasing a high-quality Ruger 10/22 bipod is one of the best ways to improve the accuracy of your shot, reduce fatigue, and be able to fire more comfortably on different terrain.
In this guide, we're reviewing the best Ruger 10/22 bipods available on Amazon. Plus, we're going to explain some of the methodologies behind why you should use one and how it can help you.
Best Ruger 10/22 Bipods: Full Comparison
The Ruger 10/22 is a popular rifle for game hunters simply because it's easy to use, designed well, and comes with a large assortment of customization options. Most people use it for shooting practice because it's also easy to get an accurate shot.
That said, accuracy is never guaranteed and there are a variety of things we can do to improve our shot. A high-quality Ruger 10/22 bipod is a sure-fire way to do this. Here are our top six choices for the best Ruger 10/22 bipods.
Harris Engineering S-BRM
AVAWO Hunting Rifle Bipod
UTG Tactical OP Bipod
CV Life 6-9 inch Tactical
Magpul Bipod
Caldwell XLA Pivot
We have complete reviews for each of these below so skip right through to those if you already understand what a bipod is and how to choose one.
How to Choose a Good Bipod for Your Ruger 10/22 Rifle
If you're not entirely familiar with bipods, it can make choosing one a bit challenging. You'll need to do some research, understand the characteristics of the product, and look for specific features that benefit your accuracy.
By doing this you can choose the best brands and products from the less desirable ones. Luckily, we live in the age of technology which puts more power in the hands of the consumer. Based on our research, here are the five most important buying factors to consider.
Quality
The quality of the materials and the build are obviously important. Usually, bipods are made of steel or aluminum. The goal of the accessory is to keep the Ruger 10/22 as stable as possible and this requires strong materials.
If you choose something that is built with high-quality craftsmanship and great materials, you're not only improving your shot but you're increasing the life of the product.
Price
Your budget is another important factor. While this isn't a characteristic or even something you can control, it's essential that you keep the price in mind at all times. You don't want to pay more for something than you have to.
If you're on a strict budget, you still want to allow yourself enough money to invest in a quality product. Do not buy something that's made cheaply with poor materials simply because you want to save a few bucks. Save your money a little longer and go with something that will last.
Also, keep in mind that we only recommend the highest quality bipods and they're all within pretty affordable price ranges for all budgets.
Stability
The ultimate goal here is to stabilize the rifle and create a more accurate shot, right? The material, price, or brand of your bipod won't matter if there are loose tolerances and moving parts. It must be strong and stable enough to maintain your position and ensure that nothing falls out of line by even a thousandth of an inch.
The right bipod will also be adjustable enough for you to move and adjust it without it impacting your shot by wobbling.
Weight
Weight is like a double-edged sword when it comes to firearm accessories. You never know how to feel about it. Heavier products usually mean better materials, but that's not always the case. Sometimes, lighter accessories make your life a lot easier because they make it simpler to travel and carry with you.
At the end of the day, strength, durability, and stability will be your most important features so don't worry too much about the weight.
Adjustability
All bipods should offer plenty of ways to adjust the legs to accommodate different terrain and situations. Keep in mind that there are many other factors that impact adjustability as well such as scopes and stocks. A great bipod will accommodate all of these and make it easy for you to keep the rifle level.
They should have plenty of swivel points and a stable adjustability range that maintains position when you want it to.
Application
Most people turn to bipods for accuracy so keep in mind what you're planning on doing with them. If you're using it for target shooting, you might want to find a product that really helps you with your long-range shots but you're not as concerned with adjustability because you're working with standard terrain.
If you're using it for hunting, you may not have to reload or fire as quickly but you could be dealing with any terrain so firm adjustability and accuracy are really the keys for you. Just keep this in mind as you choose.
The Benefits of Choosing a Quality Ruger 10/22 Bipod Mount
If you're planning on investing in the best bipod for the Ruger 10/22, you'll experience some great perks. You'll now be able to steady your weapon much easier which results in a more comfortable firing position. We all know the more comfortable we are, the better shot we have.
A bipod also allows you to rest your weapon anywhere. You can rest it on the ground, on a wall, or anywhere which results in less fatigue during competition shooting or target practice.
Bipods enable you to aim appropriately ahead of time before firing, which helps you get into the proper position before you take your shot.
Improved Stability
Stability is the key to the best shot and the more stable you can be when firing, the better off you'll be. You'll be able to hit your target more accurately no matter what application you're using.
Terrain Handling
If you're hunting, you never know where you'll have to set up shop. Most bipods help you support your rifle on any terrain including rocks, dirt, and mud. This is where a high-quality product comes into play as well. A low-quality bipod won't stabilize your rifle on rough terrain which can not only hurt your shot, but damage your rifle as well.
Securing Your Rifle
When you're attached to the bipod, the Ruger 10/22 can never fall out of place. It consistently secures the rifle so you don't need to readjust each time you set up at a new location.
Ruger 10/22 Bipod Reviews
Now that you understand some of the factors we considered when creating this Ruger 10/22 bipod review, let's take a look at our top six choices. All of these have their own set of benefits and drawbacks so be sure to consider all the options.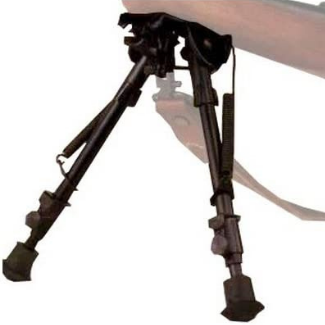 Pros
Easy to set up
Portable
Lightweight
Sturdy on most terrain
Cons
The swivel can get loose
Might not work for all rifles
We chose this as our best bipod for the Ruger 10/22 because the company is the top manufacturer of rifle accessories and they manufacture these in the United States. The bipod comes with expandable legs and separate adapters so you can use this with any rifle outside of the Ruger 10/22 as well.
The bipod is constructed with aluminum alloy and hard steel which enforces stability allowing the bipod to comfortably take the weight of the rifle and yourself without shaking or falling out of tolerance.
Harris Engineering does a great job of ensuring stability and helping accuracy as reported by many sport shooters and hunters as well. It allows you to swivel from right to left smoothly and the rubber shoes make it easy to handle a variety of different terrains.
Bottom Line
We expect this to be a popular Ruger bipod for hunters. If you're shooting on less than desirable terrain the rubber shoes really give it a leg up over some of the other options. Plus, it works for target practice as well because it's highly stable, reliable, and it has a nice finish too.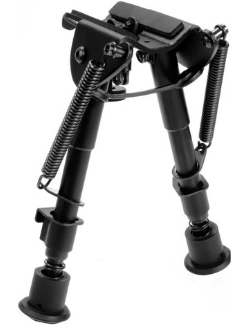 Pros
Durability
Great in all applications
Incredibly affordable
Easily fits the rifle
Cons
Issues with tightening
A bit flimsy
This bipod is great because it's easy to extend and it's a great size for many different applications. If you're hunting in the prone position or from a bench, you won't have a hard time adjusting it. It's also pretty durable so it can handle some weight from heavy-duty hunting rifles.
It's manufactured by a company called Avawo so it doesn't have the clout of Harris Engineering, but we're familiar with this company and have had no issues with them. The foldable legs work between six and nine inches and while it doesn't have a swivel top, it's still adjustable and features a spring tension fold arm design.
The main thing that stands out here is how light and affordable it is. Now, this isn't always a good thing because it usually means that it's made with cheap materials, but not everyone needs a big heavy bipod. It's compact, light, and easy to transport for hunting and sport shooting.
While we are a fan of the budget-friendly price tag, it is a bit flimsy and doesn't always tighten down to a comfortable level. While it can handle some of the heavier hitting rifles, we'd like to see it be a little stronger if they present a new model.
Bottom Line
We think hunters and target shooters will get use of this but maybe hunters more. It's made with tough aluminum so it can handle a lot of abuse, and it's so affordable that you could honestly buy a new one if anything happened.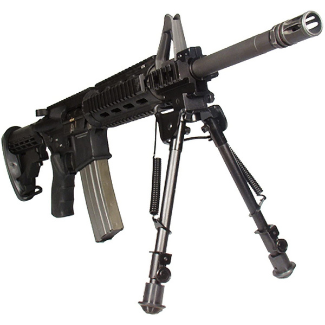 Pros
Great in many applications
Stability
Rubber feet
Durable and strong
Cons
Movement is stiff
Loose parts
We love this bipod. The UTG Tactical Bipod is highly adjustable so it extends up to 13-inches in height so you can use it in a wide variety of applications. Plus, it comes with rubber feet so it holds it's position well regardless of where you're using it.
It's also highly affordable for a bipod of this quality. It's manufactured in the US by UTG, which is a highly respected company responsible for making a ton of different weapon accessories. All parts on this bipod are made with tough aluminum besides the top which is hardened steel. The extendable legs work well to mitigate any instability that you might have when shooting on different surfaces and terrains.
We think the dual-mounting design is the main standout feature. You can fit your rifle on here without any problems and it's incredibly easy to assemble and disassemble. You can also use any gun you want as long as it has a sling swivel.
The UTG Tactical Bipod also features posi-lock that ensures your legs properly lock into place. This design is consistent and reliable to guarantee that nothing moves around as you're firing.
Bottom Line
Hunters will benefit from this bipod because of the rubber feet and sturdy locking design. You can use this on any terrain without having to worry about anything moving around. You'll get a stable and accurate shot every time. It's also highly adjustable, which gives you a lot of support and helps you stay comfortable no matter where you are.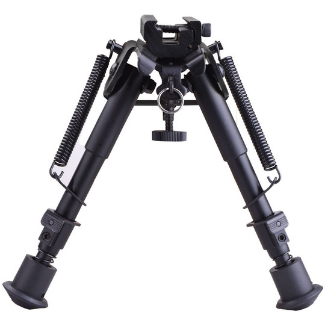 Pros
Rubber skid prevention
Affordable
Durable materials
Cons
Picatinny rail mount has an irregular offset
This Ruger 10/22 bipod is made with hardened steel and anodized aluminum with a non-rust anodized black finish. The design is both durable, but lightweight, and it comes at an affordable price. It has five different length settings that adjust from six to nine inches. That's definitely not the most flexible design we've seen, but it'll work in many hunting and sport shooting applications.
By tightening the bottom screw, you'll secure the adapter which provides you with steady support. Most shooters using this bipod have said that it's secure, stable, and helps improve the accuracy of their shot.
One of our favorite features are the high-quality rubber skid prevention pads on the bottom that allow you to set up shop anywhere you have to. This makes the bipod a great choice for hunters who work on different terrain.
The biggest issue most people have is with the included Picatinny mount. Most people wish they wouldn't even advertise it because it has an irregular offset, doesn't fit properly, and is simply unusable for most.
Bottom Line
The primary feature here is the adjustable spring return and leg release button that make this a versatile bipod. It has five different adjustability settings and the sling swivel stud allows you to quickly attach and detach the rifle. It's a great hunting bipod and it comes at an affordable price that should work for most budgets.
Best Low Profile Design Bipod: Magpul Bipod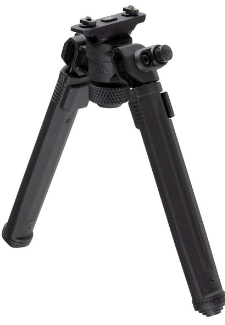 Pros
High-quality materials
Stable
Long legs and versatile design
Cons
This bipod extends to up to 13-inches in length so it works for shooters of a variety of applications. You can adjust it to fit your needs. It also has rubber feet that make sure it doesn't slide around and it keeps everything together.
The Magpul Bipod is also made by UTG which is one of the best manufacturers for the job. We also like the dual-mounting feature which we've seen a few times now. You can mount your rifle here easily and it allows you to basically mount any rifle you want with a swivel sling stud.
As for accuracy and stability, the posi-lock ensures that everything stays in place and when you have a strong grasp on your rifle it always helps increase the accuracy of your shot and ensures that you're comfortable while doing it.
Bottom Line
This is a rugged bipod and it has a lot more flexibility than some of the others. It goes much higher and lower so it opens a lot of doors in terms of how you want to shoot. If you find that you have a hard time keeping your rifle steady on different terrain this will also help you.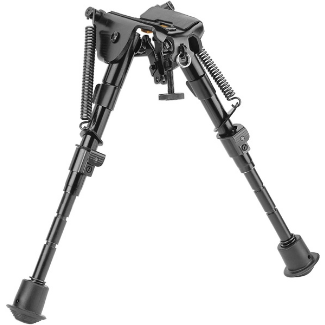 Pros
Notched legs for indexing
Lightweight
Quick to deploy
Rubber feet
Cons
Lacking swivel tension
A bit loose
Deployment, accuracy, and lightweight transportation are the main features of the Caldwell XLA. This one comes with notched legs that make it easy and fast to deploy this one and get it set to your ideal height. It offers an 18-degree bi-directional cant and easy to fold up legs. Push a button and the legs spring out so you can quickly deploy this in the field or in the woods.
It also comes with soft rubber feet to improve stability and a padded base for protection.
The main issue that a lot of people seem to have with it comes with how loose the swivel is. They want more tension because it rotates too freely which decreases accuracy when you don't have that necessary amount of resistance.
Bottom Line
It's an affordable bipod that many will compare to a Harris bipod, but it does fall a bit short. If you have a rail adapter to screw into, it will fix a lot of those stability issues, still it's a great value for a bipod of this quality.
Ruger 10/22 Bipods: Final Thoughts
Even though the Ruger 10/22 is considered a relatively accurate rifle and one that is easy to use, no shot is perfect. You can always use some help and if you're firing from uneven ground, the chances of you getting an accurate shot are even lower.
Having the best Ruger 10/22 bipod will absolutely help you achieve a more stable and accurate shot while reducing fatigue and allowing you more flexibility to fire from wherever you want.
Ruger 10/22 Bipod FAQs
We scoured the internet for some of the most frequently asked questions about Ruger 10/22 bipods. Here's what we found.
Does a bipod affect accuracy?
Yes, no matter what way you look at it a bipod will affect your accuracy. If you're using a non-free floated barrel it will cause the barrel to flex differently than normal. This will impact your accuracy the same way a sling does. It's also important to factor in fatigue and comfort when firing a lot of rounds as well. Bipods will impact all of these.
What is the best bipod for hunting?
The UTG Tactical OP Bipod might be the best one for hunting because of the posi-locks and the rubber feet. Overall, this is the easiest one to deploy last minute, get it set up, and get an accurate shot before your target moves too much.
How to put a bipod on a Ruger 10/22?
This video provides pretty simple instructions on how to install a bipod on the Ruger 10/22. This is specifically for the takedown model, but the process and application are mostly the same for the carbine models as well.