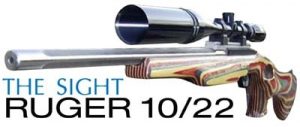 Ruger 10/22
The Ruger 10/22 is the premier semi-automatic, rimfire rifle in the world today.  Introduced almost 50 years ago, Ruger has sold millions of the ultra-reliable 10/22 rifles since 1964.
The 10/22 fires the affordable .22 LR cartridge, meaning a shooter can spend hours of great fun at the range without breaking the bank.  Ruger's rotary magazine is extremely reliable, and a 10 round magazine is standard with all new guns.  Ruger also makes a five round magazine, and introduced a factory 25 round magazine in May of 2011.
In addition to its rugged reliability, firearm enthusiasts love the 10/22 for its versatility.  Ruger makes the rifle in a variety of configurations with synthetic and wood stocks, varying barrel lengths and finishes.  In years past, Ruger chambered the 10/22 in both the .22 WMR and .17 HMR cartridges.
The Ruger 10/22 rifle exhibits great handling characteristics, and unlike many .22 LR rifles, it is designed for an adult.  This means the gun has excellent fit characteristics for many people.  Prior to 1964, many .22 LR rifles were smaller, youth-type guns.
The receiver is precision machined from aluminum alloy, though the now discontinued .22 WMR model used a steel receiver.  The 10/22 is a straight blowback design, which has proved to be exceptionally reliable in this rifle.
The 10/22 has standard sights, but adding optics is very easy with the addition of a scope base adapter that Ruger includes with every rifle.  The adapter allows the shooter to mount both Weaver and .22 tip-off style scopes.
One of the greatest things about the 10/22 rifle is the community that sprung up around the rifle.  Since the 60's, this Ruger rifle has enjoyed a huge following of enthusiasts.  Many aftermarket accessories are commonly available, and complete custom rifle shops can build you a precision Ruger to your specs.
Currently, Ruger manufactures five different models of the 10/22 with multiple variations of each model: the Carbine, the Compact, the Tactical, the Sporter and the Target.
Ruger manufactures a rifle called the SR-22, which is configured like an AR-15 rifle, but uses the 10/22 receiver and magazines.  The SR-22 comes in two versions, both with a 16.12" barrel and 10 round magazine.  One version of the SR-22 comes equipped with an adjustable stock and flash suppressor, while a second version for states like California eliminates these features.
Also derived from the 10/22 is the Ruger Charger pistol.  The Charger is a precision rimfire pistol with an adjustable bi-pod for extremely accurate shooting.  The Charger uses a 10" barrel and 10/22 receiver with standard 10/22 10 round magazines.